Konami latest financial report shows strong growth despite its ailing, unpopular image, with total profits doubling compared to last year's earnings.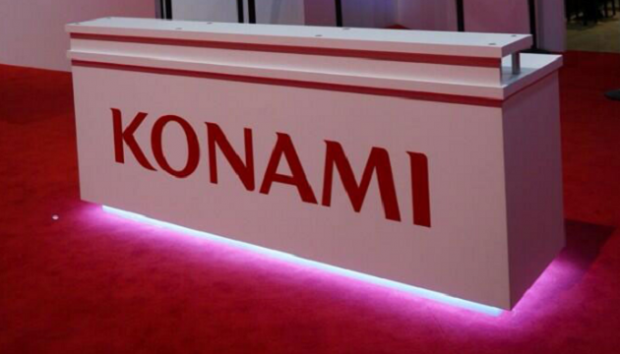 In the past three quarters, Konami has boosted its total profits by 229.8% raking in 20.7 billion yen, or about $182.6 million USD.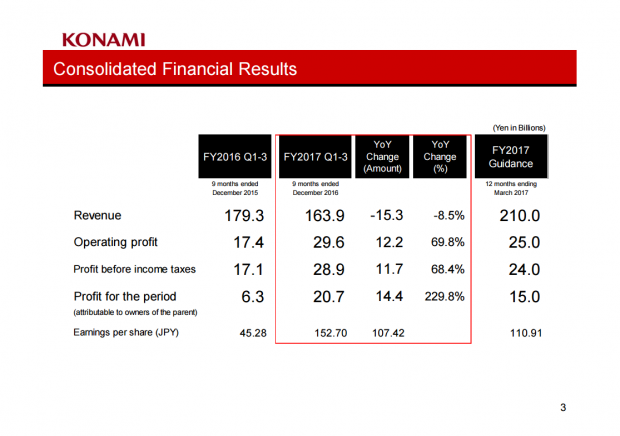 These nine-month earnings were accrued by consistent pachinko and pachislot revenue as well as game sales, and Konami recently merged its slot machine and arcade game sectors to form the Amusement Business, which is not unlike SEGA's classification.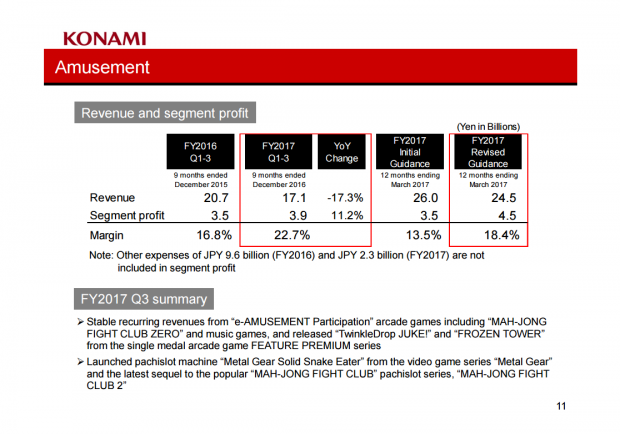 As far as specifics, Konami's total six-month operating profit was 29.6 billion yen ($260.6 million USD), up 169.8% year over year. Total revenue boasted 163.9 billion yen ($1.44 billion) which represented yet another substantial 91.5% spike in year-over-year increase.
To give you an idea of how Konami's financials compare with other Japanese competitors, here's a quick rundown of recent nine-month earnings posted by rival companies.
Square Enix recorded 190 billion yen in net sales ($1.7 billion USD)

Capcom 53.5 billion yen ($472 million USD) net sales

SEGA, who has a heavy stake in the pachinko market, earned 285 billion yen ($2.51 billion USD) in the last nine months, with $1.05 billion earned from pachinko amusement machines alone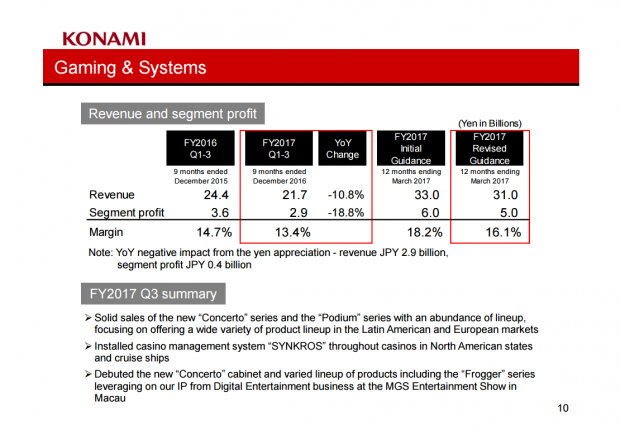 KONAMI HOLDINGS CORPORATION hereby announces that the consolidated total revenue and operating profit for the nine-month period ended December 31, 2016 were ¥163,941 million (91.5% of the same period in the previous year) and ¥29,587 million (169.8% of the same period in the previous year), respectively.

Profit before income taxes and profit attributable to owners of the parent company were ¥28,861 million (168.4% of the same period in the previous year) and ¥20,651 million (329.8% of the same period in the previous year), respectively.

Effective from the six months ended September 30, 2016, we restructured our business by combining the arcade games business segment, which formed part of our Digital Entertainment Business, with another BtoB business, the Pachislot & Pachinko Machines Business, and the segment classification was changed to the "Amusement Business" in order to further strengthen our business operating structure.