Square Enix predicts $2.2 billion yearly earnings spike
Final Fantasy publisher expects to see a substantial $500,000 earnings boost in just three months.

Published Tue, Feb 7 2017 12:03 PM CST
|
Updated Tue, Nov 3 2020 11:56 AM CST
Square Enix recently published its third quarter earnings report, and things are looking good for the Final Fantasy publisher. Total nine-month net sales are up by 24% year-over-year thanks to strong game sales, but the most interesting tidbit is the rather massive earnings spike the publisher expects to see at the end of the fiscal year. In fact, corporate expects net sales to rocket in just three months time, pushing its net sales to just over $2.2 billion.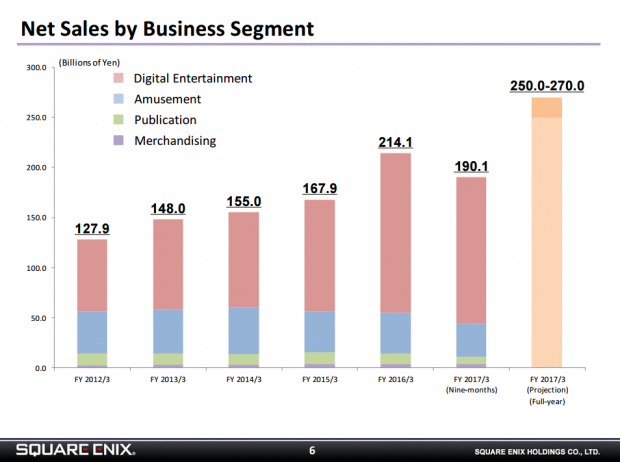 In a nine-month period from April to December 2016, Square Enix generated a total of 190 billion yen in net sales, or about $1.68 billion USD. Three of Square Enix's four yearly quarters have passed, leaving the last three-month quarter (Q4 2017) which ends on March 2017. The publisher's forecast for the entire net sales of Fiscal Year 2017 is 250 to 270 billion yen, which is at least approximately 60 billion yen over their current nine-month earnings.
The timing is key here: Square Enix will have a three month period from Jan. 1 to Mar. 31 to generate that 60 billion yen, or about $533.4 million dollars.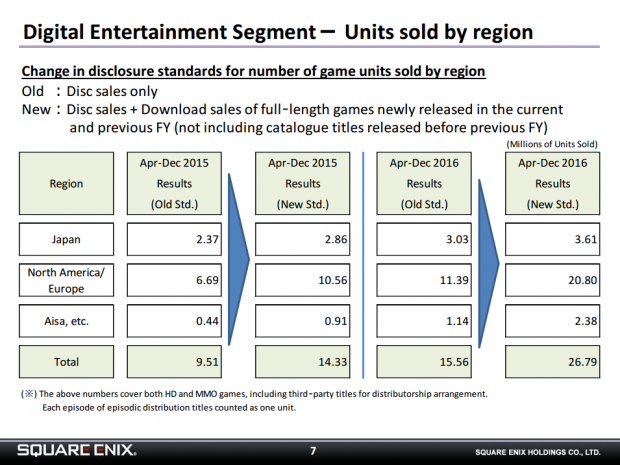 What could be responsible for this massive spike? Square Enix obviously has tons of confidence in their current and future lineup, so I decided to take a gander at Square Enix's confirmed 2017 software lineup calendar for games that release during the Q4 timeline.
I found six games: KINGDOM HEARTS HD 2.8 Final Chapter Prologue, RIDE 2, I Am Setsuna (Nintendo Switch), NieR: Automata (PS4), Kingdom Hearts 1.5 & 2.5 HD ReMIX (PS4), and the newly released Mobius Final Fantasy. Three of these (NieR and Kingdom Hearts) are heavy-hitters.
Other releases like Final Fantasy XIV: Stormblood, Dragon Quest Heroes II, and Final Fantasy XII Zodiac Age will release past the March 31 cut-off point. So might we be able to expect a surprise release, or something we don't know about just yet? Is there more to the picture?
Or is Square Enix confident in this new lineup combined with the stellar sales of its previous FY 2017 lineup?
The company has released a rich multi-faceted lineup of 29 games in FY 2017, including high-profile titles like Deus Ex: Mankind Divided, Rise of the Tomb Raider on PS4, Final Fantasy XV, Final Fantasy Brave Exvius, Mobius Final Fantasy, Dragon Quest Builders, and World of Final Fantasy.
These games will continue to pull in revenue throughout the next three months (especially Final Fantasy XV and the mobile-based games).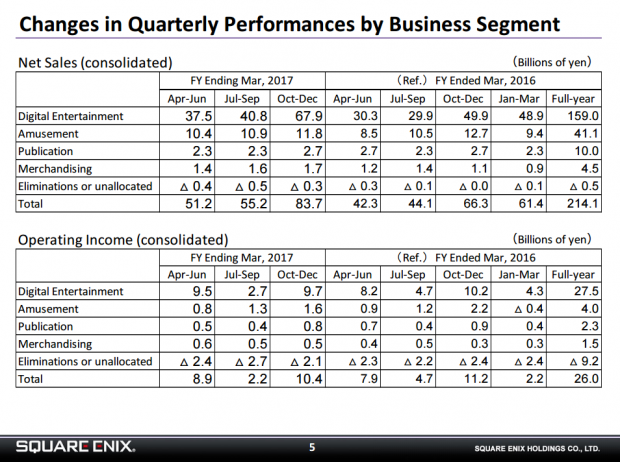 These existing games--combined with the other market sectors like amusement, merchandising, and publication content--are primarily responsible for the stellar nine-month earnings, and Square Enix is rather confident the games will continue to sell strongly and help buoy newer releases like NieR: Automata.
But I can't help but to wonder if the games-maker hasn't snuck a hidden game in the mix as well.
In any case, there's no definite proof we'll see an unannounced game pop up before March 31, but we do know it won't be the Final Fantasy VII: Remake as the game still has a "long ways to go" in development.
The timing and the numbers seemed quite suspect and I hope we get a nice present, but don't get your hopes up.
Also remember that $2.2 billion is the minimal forecast, and Square Enix predicts it could make up to 270 billion yen in FY 2017, which equates a cool $2.4 billion USD.
Related Tags