Final Fantasy 14 Stormblood launch details revealed
Red Mage job class, swimming, a new 24-man raid and much more confirmed for the new Stormblood expansion.

Published Sat, Dec 24 2016 2:40 PM CST
|
Updated Tue, Nov 3 2020 11:57 AM CST
Square Enix has revealed the release date of Final Fantasy XIV's new Stormblood expansion, showcasing a bunch of new content and details that will roll out with the new massive paid DLC including the Red Mage class, swimming, a new Primal, a new 24-man raid, and more. Check below for a quick breakdown of what to expect with Stormblood.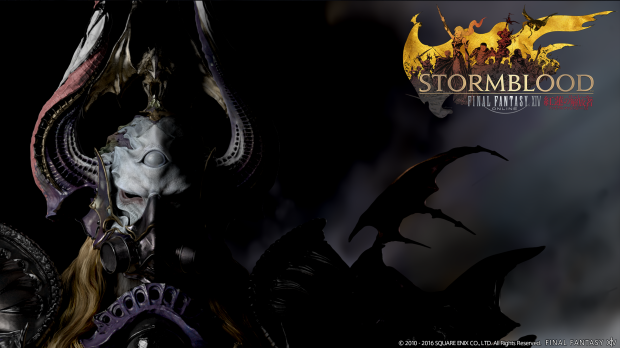 Final Fantasy XIV is my favorite MMORPG: it's stalwart quality shines throughout every aspect, representing one of the best online games ever made--and certainly the best MMO of our era. Square Enix has put so much effort into every facet of the game, and its expansions are games within themselves; the same is true for Stormblood, Final Fantasy XV's latest expansion, which releases on June 20, 2017 on PS4 and PC.
Square Enix revealed a ton of new info about Stormblood at the Final Fantasy XIV Fan Festival in Las Vegas last night, and we've broken down the details in key bullet points below:
Red Mage job class confirmed - The Red Mage will be one of the new job classes in Stormblood, and is primarily a DPS who uses ranged magic that can also get up close and personal. The Red Mage's magical spells are a combination of Black and White magic, and the job also has a rapier that can be used for close DPS combat.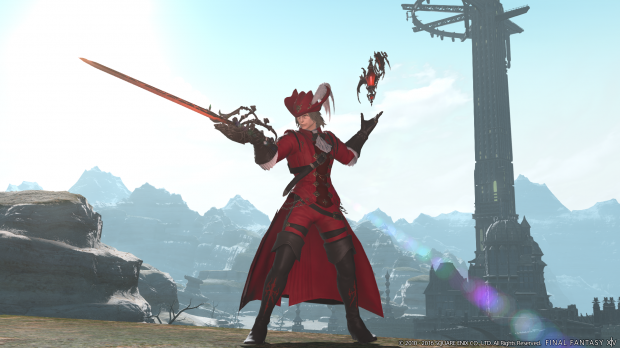 Red Mage has two basic attack modes: ranged with spells, and melee. When you switch to ranged, the Red Mage will leap back to create distance, and uses a "crystal medium" (rod?) for attacks. When you switch to the close combat rapier stance, he'll use a special magical chain attack to grab onto foes and pull him closer--somewhat Devil May Cry. These chain attacks will build up magical buffs which can then be spent on special attacks.
RDM can also combine both the crystal and rapier weapons to form a single weapon.
The RDM job class won't be available until level 50, and doesn't have it's own class.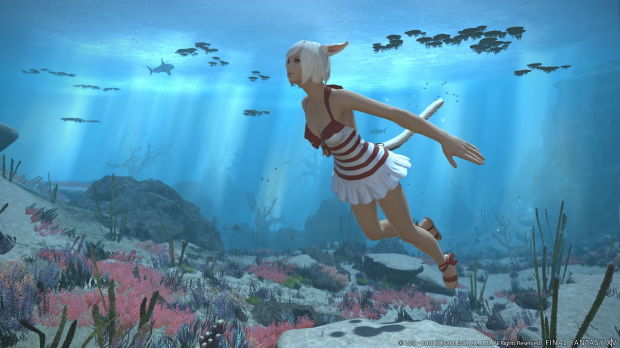 Tropical beachside swimming and diving - Stormblood will let players actually swim in specific areas across Eorzea, putting those in-game bathing suits to good use. You'll only be able to swim in base A Realm Reborn areas, and Costa Del Sol will be one of the main tropical attractions.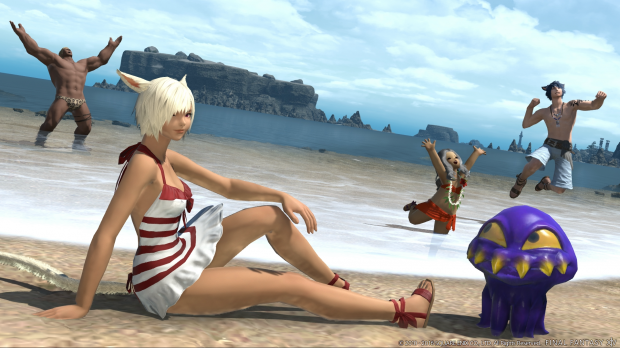 You'll also be able to dive underwater in specific areas, but only if the water is deep enough.
Players will also be able to do basic gathering jobs like fishing while underwater, as well as interact with NPCs. There won't be any battle sequences underwater, however. At the start swimming will be limited as players will have to return to the surface for air, but a quest will unlock unlimited breathing, as well as allowing players to swim underwater on the backs of flying mounts.
Nobuo Uematsu will orchestrate Stormblood's opening theme - Nobuo Uematsu will lend his amazing talent to the Final Fantasy series once again with Stormblood, and he even says the theme is about 60% complete. Uematsu affirms that Stormblood's musical theme will be a "tad more uptempo and features an emotionally powerful melody."
New 8-man raid: Omega Weapon - Heavensward had Alexander as its 8-player raid, and A Realm Reborn had the Binding Coil of Bahamut; Stormblood will continue this tradition with The Bend of Time: Omega, a new raid focused on taking on the fearsome Omega Weapon.
The team affirms that the Bend of Time: Omega raid will have a new kind of difficulty, and we'll see Omega Weapon be introduced into the story starting in Update 3.5, then carrying onto the Stormblood expansion in June 2017.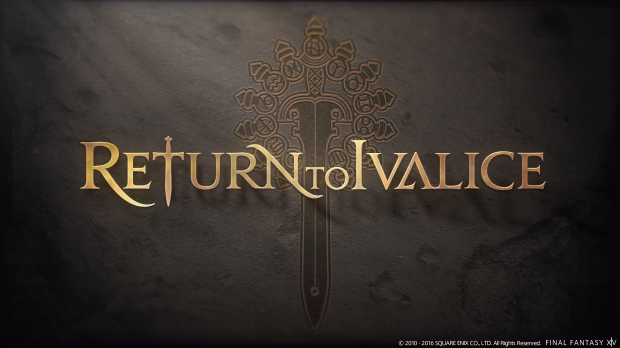 New 24-man raid: Return to Ivalice - Square Enix has acquired key talent to design Return to Ivalice, the new 24-man raid for Stormblood, collaborating with Final Fantasy 12/Final Fantasy Tactics alum Yasumi Matsuno to write the actual storyline and script for the raid.
Shin Megami Tensei IV alum Keita Amemiya will design the raid's new bosses, so expect Return to Ivalice not only to have an amazing story, but to have some awesome bosses as well.
More details on the 24-player Return to Ivalice raid will be unveiled in the coming months.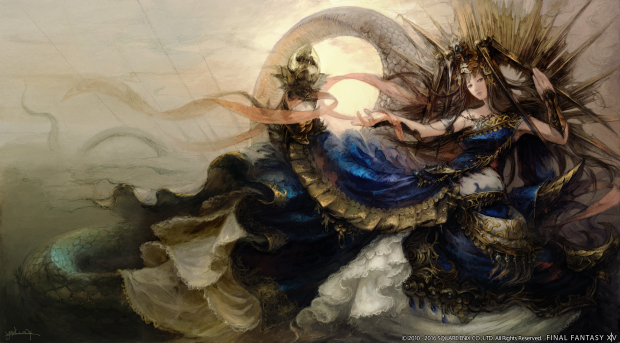 New primal: Lakshmi, "Lady of Bliss" - Stormblood will introduce a brand new primal to Eorzean canon: Lakshmi, also known as the Lady of Bliss.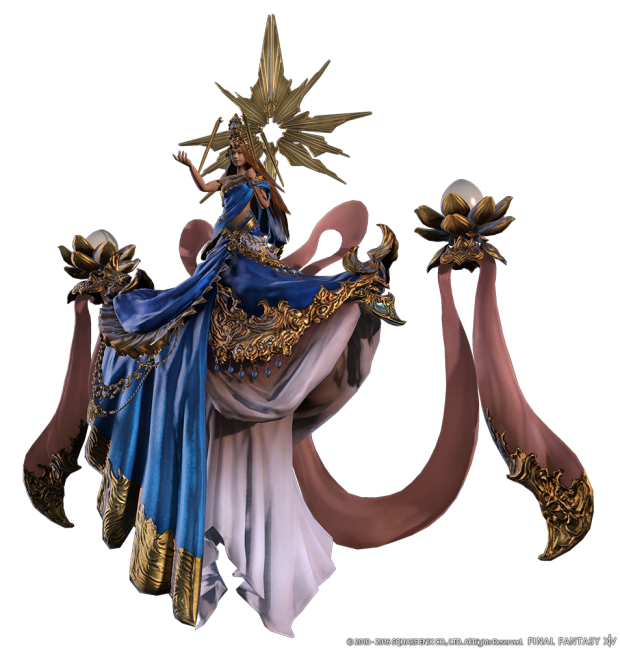 Not much is known about Lakshmi right now, but she is worshipped by a new mermaid/naga race called the Ananta.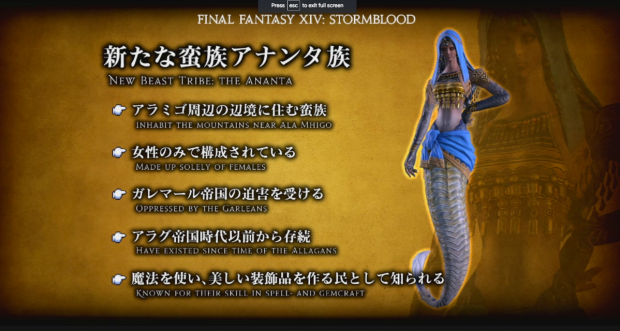 A new beast tribe called the Ananta worship Lakshmi, and will introduce the primal into the story. The Ananta are an all-female serpent-like "lamia" race that live in the Ala Mhigan outer rim's mountains.
The Ananta have been oppressed by the Garleans and are extremely powerful in the ways of magic, gemcraft and jewelry.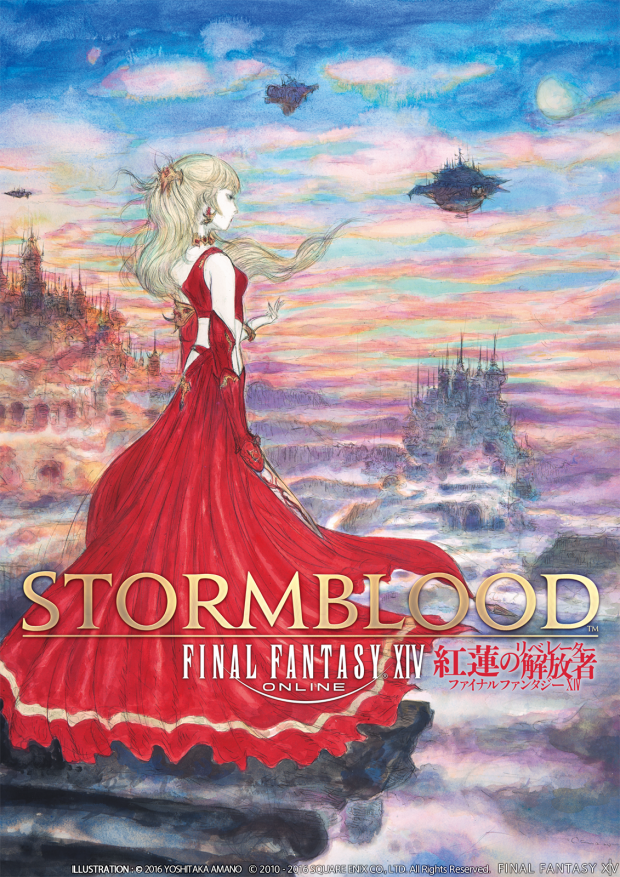 No PlayStation 3 release - Final Fantasy 14's Stormblood expansion will release on June 20, 2017 for PS4 and PC. No PS3 version will be made, and the MMORPG will actually phase out PS3 when Stormblood releases.
We expect the expansion to launch for about $39.99, the same price as Heavensward.
Related Tags