Today, Synaptics announced their new optical fingerprint sensor - the FS9100, which is capable of high-resolution scanning through 1mm of full cover glass and enables clean button-free industrial designs.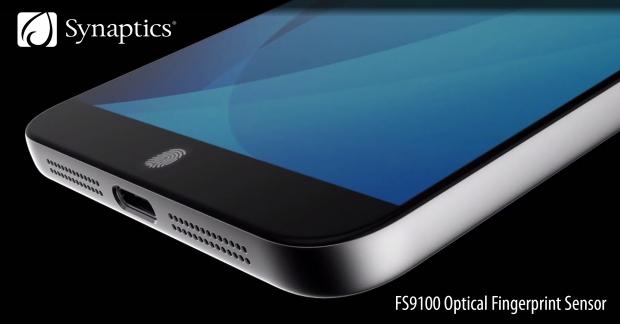 The fingerprint sensor is designed to be placed under coverglass, meaning it doesn't require its own separate button. The FS9100 can be integrated into a single piece of glass on the front of the phone, so hopefully we can say 'goodbye' to separate buttons for fingerprint sensors and hello to even sleeker phone designs.
The FS9100 optical fingerprint sensors are designed for placement under the cover glass, including 2.5D glass, located in the front, bottom bezel of devices. The real innovation is being able to work through the existing device glass, up to 1mm thick, meaning that the fingerprint sensor is now as durable as your gorilla glass (or other glass) screen.
The fingerprint sensors also use Synaptics' latest technologies to make hacking the fingerprint sensor harder, including tricking the fingerprint sensor with fake fingerprints. They use their own AI technology to distinguish between fake and real fingers.
The FS9100 basically works better than the bigger and bulkier fingerprint sensors used outside of mobile. The company will show their newest technology at CES, and we will inform you how well it works.