To celebrate this week's release of 'Game of Thrones: The Complete Sixth Season' on Blu-ray and DVD, we have 10 Blu-rays to give away thanks to our friends at Roadshow Home Entertainment.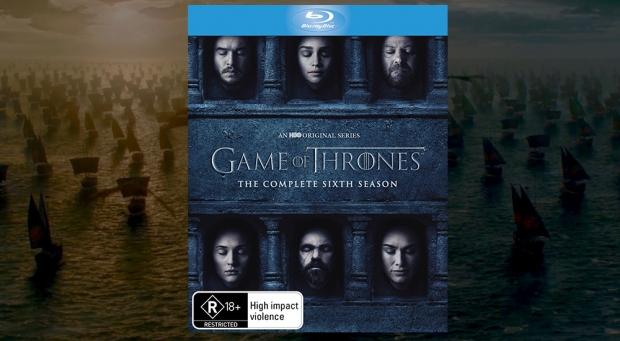 Summers span decades. Winters can last a lifetime. And the struggle for the Iron Throne continues. It stretches from the south, where heat breeds plots, lusts and intrigues, to the vast and savage eastern lands, where a young queen raises an army. All the while, in the frozen north, an 800-foot wall of ice precariously protects the war-ravaged kingdom from the dark forces that lie beyond. Kings and queens, knights and renegades, liars, lords and honest men...all play the 'Game of Thrones.' Season 6 sees the Three-Eyed Raven accompanying Bran Stark into the past, to a Winterfell in the height of summer. A divided Night's Watch is left in turmoil after a bloody Jon Snow is found lying under a sign that reads "Traitor". Having survived their leap from the Winterfell wall, Theon Greyjoy and Sansa flee through the woods, hoping to leave behind the nightmarish Ramsay Bolton. Meanwhile with Daenerys isolated in Essos, Tyrion Lannister and Varys must use all their cunning to maintain control of Meereen as the former Masters look to regain control.
To go into the running to win a prize, simply answer the following question in 50 words or less:
Which Game of Thrones character is going to be victorious by the end and why?
To enter, simply 'like' this post and share via Facebook or Twitter and send your answers, along with your postal address to ben at TweakTown dot com before the competition closes on November 18.
'Game of Thrones: The Complete Sixth Season' is available on Blu-ray and DVD at leading Australian retailers from November 16.