After Tesla and LaFerrari, Concept One beats Porsche 918
Concept One has shown its power against Tesla's P90D, the LaFerrari and now the Porsche 918.
Published Tue, Oct 11 2016 4:32 PM CDT
|
Updated Tue, Nov 3 2020 11:58 AM CST
After the demonstration of power against the Tesla P90D and LaFerrari, Mate Rimac's Concept One, an all-electric hypercar, sparked the appetite of enthusiasts and the motoring press for more.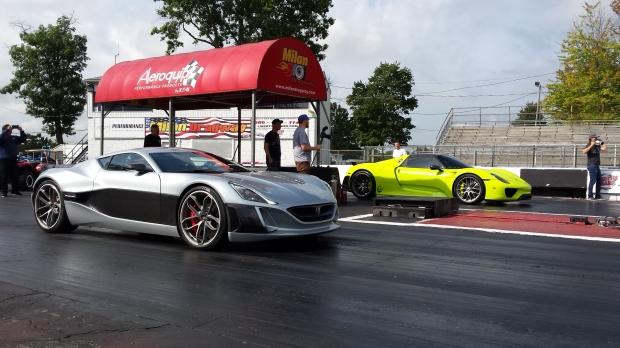 While the LaFerrari is an extremely impressive car, many called for a race against the Porsche 918 which is the most hybridized and only four-wheel driven member of the so-called Holy Trinity. It is also considered the fastest accelerating production car ever made.
The first to challenge the Concept One against the 918 was Alejandro Salomondrin on the Milan Raceway in Michigan. The Porsche 918 is a car that regularly dominates against McLaren P1 and LaFerrari, the other two members of the Holy Trinity.
Mate Rimac stated on his official blog that he didn't know what to expect.
This was the big boy's league and I must admit - I was nervous. We didn't have the opportunity to try this before so we were also risking to lose in front of a big audience. Still, we were more than happy to try and show what the car can do. I thought to myself: Even if we lose, it is not so bad to lose against one of the best performance cars ever made - the Porsche 918.
He added that Rimac Automobili is only at the beginning of a long journey, but that they want to show they believe in their car and its performance.
But the results were undisputed - in six rounds, Concept One lost only one, and Rimac says that happened due to his mistake. Concept One has shown its power against Tesla's P90D, the LaFerrari and now the Porsche 918.
Rimac also revealed some interesting facts on his blog.
The Concept One consumes 1,96 kWh of energy for a full-throttle ¼ mile run - and recovers a good portion of that energy back after the finish line. A liter of gasoline holds about 9,4 kWh of energy. We could say that the Concept One used the equivalent of about 1,5 liters of gasoline that day - for six full runs and two test runs. The Concept One was at 95% State of Charge before the first run and ended the last run with 72% SoC - plenty of juice for more runs.
Related Tags