During the Oculus Connect 3 conference, CyberPowerPC and Oculus announced a new collaboration that really does change everything for VR: a new AMD Radeon-powered, VR-ready PC priced at just $499.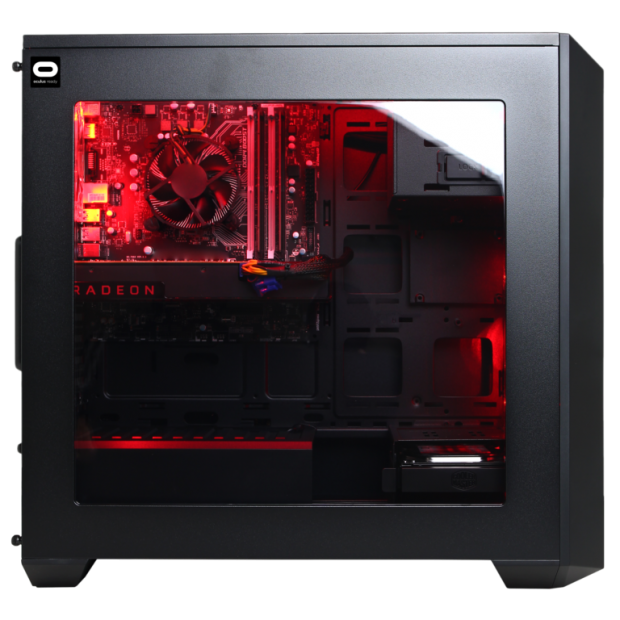 At the beginning of the year, the bare minimum cost to hit the right hardware specifications to run VR games on the Oculus Rift was $949 or so. So when the announcement of the new PC from Brendan Iribe, CEO and co-founder of Oculus, surprise hit. The new limited edition CyberPowerPC is just $499 when purchased with an Oculus Rift, and packs an AMD FX-4350 processor and Radeon RX 470 graphics card.
Included in its $499 price is the keyboard, mouse, DVD drive, and even Windows 10... a totally complete, VR-ready gaming PC that will also handle 1080p 60FPS gaming without a problem thanks to the Polaris-based Radeon RX 470 graphics card.
But the big question is how does this $499 gaming PC from CyberPowerPC and AMD run Oculus Rift games if they're meant to have a 90FPS minimum frame rate? Oculus announced its new Asynchronous Spacewarp (ASW) during Oculus Connect, which is the next great iteration in Oculus' Asynchronous Timewarp technology. AMD has been talking about Asynchronous Spacewarp for a while, with AMD's Sasa Marinkovic talking about ASW on the Radeon.com website not too long ago.
According to Jason Evangelho (who used to write for TweakTown, very temporarily before jumping over to AMD) on the new Radeon.com website, ASW: "compares previously rendered frames, detects motion between them, and projects new frames that accurately reflect where various scene components should be based on the user's movement". AMD's own LiquidVR technology works with the new Radeon Software drivers perfectly with the new Asynchronous Timewarp feature from Oculus, allowing Radeon graphics cards to "generate the projected frames without burdening the main graphics engine", adds Evangelho.
The new Asynchronous Timewarp function allows Rift games to run at 45FPS internally while displaying the same 90FPS to the VR headset. This means that the GPU requirement for VR gaming on the Rift effectively halves, dropping the PC system requirements quite a bit, allowing for true VR gaming PCs priced at console levels like $499.
We will be building a PC or two with these new lowered specs, and getting into some VR fun shortly, so stay tuned for more.