Valve asked to pull No Man's Sky bullshots off Steam
Tired of seeing No Man's Sky's misleading bullshots and lying trailers? Valve might have to remove them soon.

Published Wed, Sep 28 2016 8:34 AM CDT
|
Updated Tue, Nov 3 2020 11:58 AM CST
The UK's Advertisement Standards Agency has asked Valve and Hello Games to remove No Man's Sky's misleading screenshots and trailers from the Steam marketplace.
Almost everyone already knows that the screenshots and trailers for No Man's Sky are total lies and represent a game that doesn't exist. However, the misleading advertisements are still up on Steam, the PlayStation Store, and GOG.com, and everyday casual gamers might fall prey to the trap and buy the game.
Now the UK's official Advertisement Standards Agency has stepped in, contacting both Valve and Hello Games and calling upon them to either defend the bullshots (ha!) or pull them and replace them with screenshots and video that reflect the real game.
Read Also: Sony blames Hello Games for No Man's Sky PR failure
"Both Hello Games and Valve have a joint responsibility, and so both organisations have now been contacted by the ASA and have been told to respond to the following issues which the ASA picked out as the primary issues (compiled from a number of complainants that contacted the ASA)," reads a post on the NMS reddit.
Videos:

User interface design

Ship flying behaviour (in formation; with a 'wingman'; flying close to the ground)

Behaviour of animals (in herds; destroying scenery; in water; reacting to surroundings)

Large-scale space combat

Structures and buildings as pictured

Flowing water

Speed of galaxy warp/loading time

Aiming systems

Screenshots:

Size of creatures (9)

Behaviour of ships and sentinels (4, 5 and 8)

Structures and buildings as pictured (3)

Store Page in general:

Quality of graphics

References to: lack of loading screens, trade convoys between stars, factions vying over territory
Hello Games and Valve now have the right to respond and defend the content, but I doubt Valve will do any explaining--Hello Games will be in the hot seat once again and have to answer for the deception. The ASA's decision will be cross-applicable to other outlets and storefronts across the United Kingdom, so Hello Games will likely be forced to pull all its misleading screenshots, advertisements, and video from UK storefronts--including the official PlayStation UK store.
"We will ensure the advertisers are made aware of any points relating to other marketing material under their control (such as the Hello Games YouTube channel and website). The outcomes of ASA investigations are cross-applicable to other marketing making the same claims, so any decision reached in relation to the Steam page would apply to other advertising for No Man's Sky where the same (or materially similar) claims appear."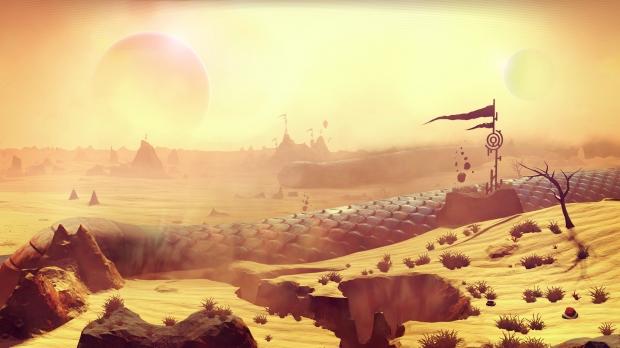 I'm glad to see this kind of thing happen; it feels like a form of justice. Countless gamers have reported No Man's Sky to the Better Business Bureau and other watchdog coalitions in the United States, but I'm not sure exactly will become of it. Since Hello Games is a UK-based dev team, this decision could ripple down to other territories as well.
Bullshots plague the entirety of gaming as a whole, but gamers are quick to spread the word and destroy the reputation of devs or publishers that take part in the absurd practice.
We've seen this happen with Ubisoft's Watch Dogs, with countless games made by Peter Molyneaux, and Gearbox's abhorrent bullshot-ridden Aliens: Colonial Marines, but at least the ASA's decision will spark a precedent that will heavily discourage this kind of thing from happening in the future.
Related Tags