Here are some facts about Google for their 18th birthday
Google's birthday varied during the years, but September 27th is its official birthday since 2006. Happy 18th birthday, Google!
Published Sep 27, 2016 7:53 PM CDT
|
Updated Wed, Jul 27 2022 3:40 AM CDT
3 minutes & 2 seconds read time
Google is celebrating its 18th birthday today (feeling old yet?) with an appropriate Google Doodle full of balloons. Google's birthday varied during the years, but September 27th is its official birthday since 2006.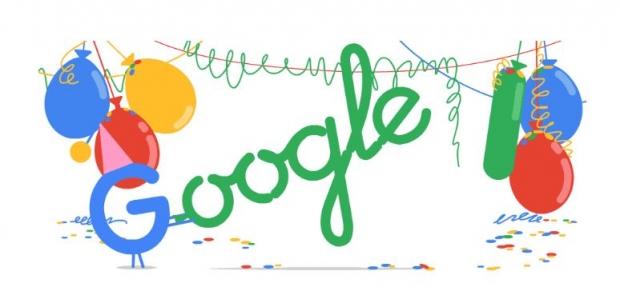 Google was founded by Larry Page and Sergey Brin while they were Ph.D. students at Stanford University, California. Their goal was to "organize the world's information and make it universally accessible and useful". 18 years ago Google's headquarters was in the garage of Susan Wojcicki, Larry's and Sergey's friend, and today Google is situated in Mountain View with over 57,000 employees.
In the 18 years of existence, Google has become one of the biggest companies in the world and our daily lives are unimaginable without it.
To celebrate Google's big 18 here are some of the lesser know facts about the number 1 site in the world.
Page and Brin originally nicknamed their new search engine BackRub.

The name Google originated from a misspelling of the word "googol", which refers to the number 1 followed by 100 zeroes.

The first Google Doodle was dedicated to the Burning Man festival attended by Google founders in 1998.

Every day, 16% of the searches that occur are ones that Google has never seen before.

The founders of Google wanted to sell it to Excite for a million dollars in 1999, but Excite turned them down.

Go to Google and search for "askew". The content will tilt slightly to the right.

Ever heard of Google's Street View camel? Yes, that happened. Google hired a camel to create the Street View of a desert.

According to a study by Tom Chavez, the 'I'm Feeling Lucky' feature cost Google $110 million a year as 1% of all searches use this feature and bypass all advertising.

Every second, 2,3 million searches are performed on Google (according to a report from March 2016).

Gmail started as an invitation-only beta release on April 1st 2004 and many users thought it was an April Fools' joke.

Gmail wasn't the only confusion made by Google on April Fools' day. On April Fool's day in 2007, Google sent an e-mail out to its employees warning that a python was loose in the facilities. It wasn't a joke...

Google's first tweet was "I'm feeling lucky" written in binary code.

In 2013 Google went down for 5 minutes causing global Web traffic to drop by 40%.

Are you a Trekkie? Google has a version of their site translated into the language of the Klingons.
Bored at work? If you search for "atari breakout" in Google Images, you can play the game.

In 2013, Google established Calico, an independent research and development biotech company with the goal of combating aging and associated diseases.

When Gmail was introduced in 2004, it offered an unbelievable 1GB free storage. For comparison, Hotmail offered only 2MB.

Believe it or not, Jennifer Lopez is the reason we have Google Images. Eric Schmidt, Executive Chairman of Alphabet Inc., stated that Google Images search was created because of the desire to view Jennifer Lopez in her exotic green Versace dress.

You can see underwater sea life, coral reefs and wrecks using Google Maps.

Susan Wojcicki, who rented her garage to Larry Page and Sergey Brin in 1998 when they were creating Google, later became the CEO of YouTube.

Google's Artificial-Intelligence Bot says the purpose of living is 'to live forever'. What about 42?!
Related Tags