You can now play Nintendo 64 games on Xbox One
Working Nintendo 64 emulator finds its way on Xbox One's app store, but it's not free.

Published Mon, Sep 26 2016 6:10 AM CDT
|
Updated Tue, Nov 3 2020 11:58 AM CST
Now that the Xbox One is powered by Microsoft's cross-platform UWP app service, developers can sneak in things like retro game emulators onto the console.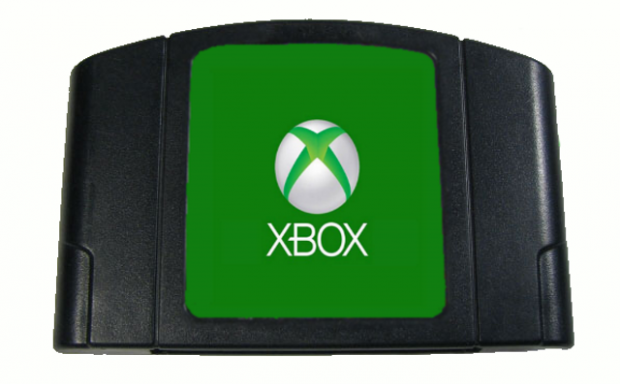 The first working Nintendo 64 emulator is now available on the Xbox One via the UWP Windows 10 integration platform, but I have a strong feeling that once news breaks out Microsoft will yank the app. The emulator is called Win64e10 and is currently available on the Xbox One game store for $9.99. I haven't tried it just yet--and I don't plan to due to the fuzzy grey line between ROMs and piracy--but other users have reported that the emulator plays Nintendo 64 ROMs like a fully-fledged PC emulator.
Now I'm sure once Microsoft realizes what happened, they'll pull the app and probably make it unusable on the Xbox One. Right now, Win64e10 is usable on PC, Xbox One and Windows Phones, making a nice trifecta for retro gaming. But for now you can jump in to sold old-fashioned Nintendo 64 awesomeness, but personally I'd prefer SNES or NES myself. Fun fact: NESbox almost made it onto the Xbox Store, but Microsoft pulled it at the last minute for obvious reasons.
I suspect that the emulator's funny "Win64e10" filename let it sneak past automated detection, but I'm still surprised this was ever made live in the first place. Nintendo isn't gonna be happy at all...but then again, when are they happy? Unless smashing YouTube videos and destroying fan projects gives them glee.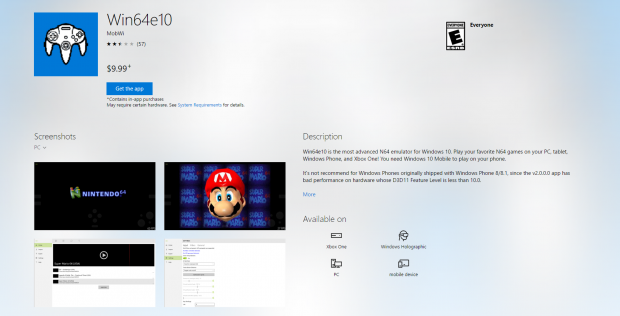 Related Tags