MSI is celebrating its 30th anniversary with the announcement of an exclusive limited edition graphics card, featuring a unique custom-designed EK waterblock and the GeForce GTX 1080 at its core.

The MSI GeForce GTX 1080 30th Anniversary graphics card features an exclusive closed loop liquid cooler from EK Water Blocks, with the newly designed EK-XLC Predator 120 All-In-On, with EK Water Blocks' R&D boss Niko Tivar explaining: "EK Water Blocks is very proud to be part of MSI 30 th Anniversary celebration and exclusively for this project, we engineered and designed EK-XLC Predator 120 All-In-On liquid cooler, that is not available anywhere else".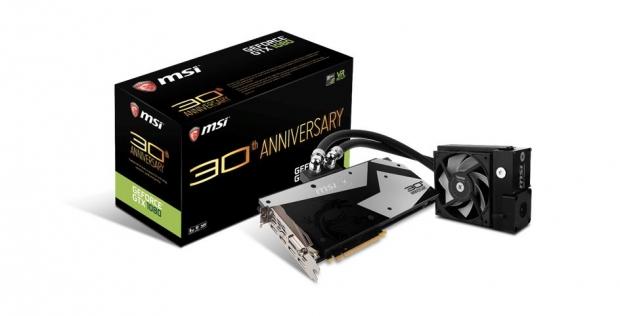 As you can expect, MSI has tweaked the GTX 1080 Anniversary graphics card, with the GPU clocked at 1721/1860MHz for base/boost clocks, respectively. The same 8GB of GDDR5X is found on the card, and cooled by the full cover EK Predator liquid cooler.

The style of the card definitely makes an impression, and the cooler looks like quite unique. We have a sample on the way, so expect a closer look at it in the very near future.