The latest leaked shot of the iPhone 7 shows it has no headphone jack
Apple's upcoming iPhone 7 spotted once again, with no headphone jack in sight.

Published Thu, Aug 4 2016 12:29 PM CDT
|
Updated Tue, Nov 3 2020 11:59 AM CST
Apple is set to unveil its next-gen iPhone next month, but between then and now we have some new leaks to look at, and wonder where Apple is going with this new direction on the next generation iPhone.
According to Unbox Therapy, who has gotten their hands-on a new iPhone 7 Plus mockup from China (which is also rumored to be called the iPhone 7 Pro), there will be no 3.5mm headphone jack. You can see in the image above that the iPhone 7 Plus, which is the one at the bottom, has no 3.5mm headphone jack - and only has the Lightning port.
On the rear of the new iPhone 7 Plus, it has docking contact points, which could be for wireless headphones or possibly - and hopefully, wireless charging. The antenna is now along the side of the iPhone, compared to two bands running from left to right at the top, and bottom of the iPhone 6 and iPhone 6 Plus. The new iPhone 7 Plus also feels lighter according to Unbox Therapy, and this could have the iPhone 7 Plus being thinner than the iPhone 6 Plus.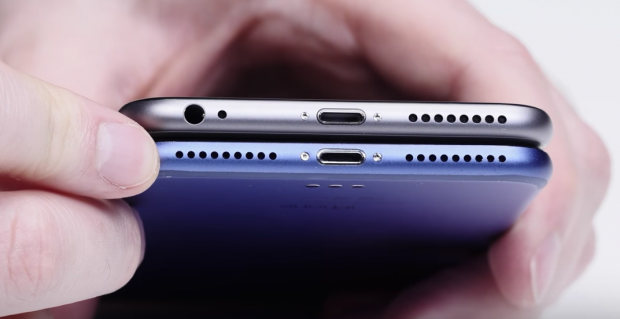 Related Tags