If you've got one of Thermaltake's new Toughpower DPS G RGB Series power supplies, you can now turn your PC off remotely if the situation arises.
Thermaltake's new PC Off Remote Control is a piece of software you can install onto your smartphone that will send you notifications if your PSU is acting up - where a fan fails, it's running too hot, or there's over/under voltage issues. The software notification will come up, then you can turn off or restart your PC so that your PSU doesn't run the risk of dying.
The company explains: "The SPM platform provides three alert functions: fan failure, over temperature (over 140℉/60℃), and abnormal voltage level (over/under 5% of normal level) warning alert. That will help users to reduce the possibility of overheating your internal components and burning the PC. When the abnormal activities occur, the warning message will be pushed to the mobile devices and email. The SPM platform allows users to turn off the computer remotely via mobile app when users receive the warning message".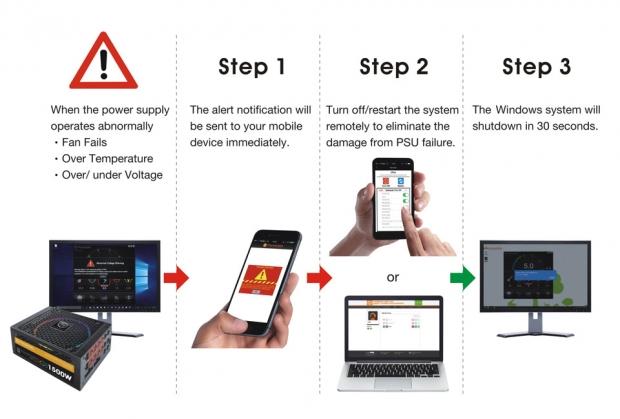 Better yet, you can arrange for scheduled shutdowns through the software, so that when your PC is finished doing what needs to be done (like video encoding or rendering, or uploading something to YouTube or to the cloud) - you can shut your PC off through the app on your phone, saving on electricity costs, and additional wear and tear to your PSU.