Deus Ex: Mankind Divided install size revealed
For a game that packs in an incredible amount of content, Deus Ex: Mankind Divided won't break your hard drives.

Published Tue, Aug 2 2016 7:16 AM CDT
|
Updated Tue, Nov 3 2020 11:59 AM CST
Eidos Montreal's upcoming Deus Ex: Mankind Divided will feature a staggering amount of content, but console gamers won't need to worry about colossal file sizes.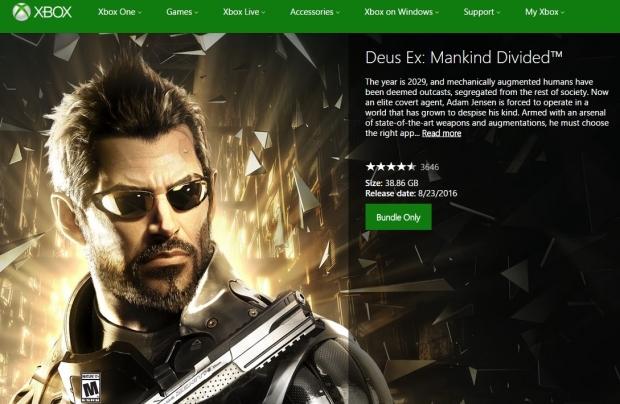 Since every PS4 and Xbox One game needs to be installed now, storage space is something console gamers are extremely conscious of. As a result we have to constantly juggle our games, deleting old titles we don't play any more and even upgrade our HDDs to bigger sizes. Luckily, one of the biggest games of the year won't have an insane install size to match: the new Deus Ex game takes up just ~39GB on Xbox One, according to an Xbox Store listing.
We still don't know how big Deus Ex: Mankind Divided will be on PC or PS4 just yet (the specs haven't been released on Steam) but we can assume both platforms will be similar to the Xbox One's 38GB size. Frankly I'm surprised at the size; I was expected a good 50GB especially with the huge amount of sidequests and optional content within the cyberthriller alone, not to mention the main quests, lighting effects and high-res textures.
Look at Halo 5, for example! Even with its janky visuals, the game is one of the largest Xbox One titles in history, and it even has a 40GB+ update file to boot. Then there's Wolfenstein The New Order and Killzone: Shadow Fall, both of which clocked in at 50GB on PS4. And let's not forget about the HDD-smashing Halo: Master Chief Collection...ugh!
After years of development, Deus Ex: Mankind Divided recently went gold and is officially ready for its final release.
In any case, Adam Jensen's next chapter launches on August 23, 2016 across PS4, Xbox One and PC.
Related Tags