SAPPHIRE has just officially unveiled its new NITRO+ Radeon RX 480, which is positioned perfectly for 1080p and 1440p gaming.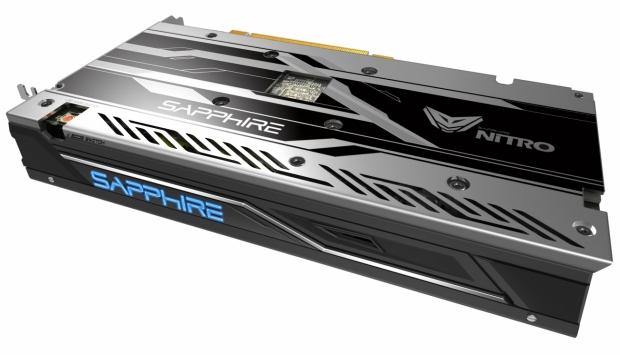 The new NITRO+ Radeon RX 480 has the same 2304 stream processors as the AMD Radeon RX 480 reference card, with the Polaris 10 GPU overclocked to 1342MHz on boost. It has 8GB of GDDR5 clocked at 8GHz on a 256-bit memory bus, while the 4GB model has a boost clock of 1306MHz and has its 4GB of GDDR5 clocked at 1750MHz.
SAPPHIRE includes the usual VR support thanks to AMD, with two HDMI ports which makes it much easier to get your VR headset connected into the graphics card. Normally most graphics cards only have a single HDMI port, so if you have a monitor or TV connected, you need to disconnect it in order to get your VR headset connected.
SAPPHIRE's Dual-X cooling includes two 95mm dual ball bearing fans, with the company making improvements to the blades which sees up to 10% less noise than the previous Dual-X cooler. The two fans can be controlled and monitored through Fan Check, which is built into SAPPHIRE's upcoming TriXX 3.0 software, which will immediately contact customer support if your NITRO+ Radeon RX 480 has any issues.
The fans themselves will only spool up when the GPU hits 52C, and will turn off completely in low load use thanks to NITRO CoolTech. This means you'll enjoy a silent gaming experience for low load gaming, or if you're watching Netflix or YouTube or just surfing the web.
Key features:
NITRO+ RX 480 8GB boost clock at 1342 MHz for superior performance

4GB version boost clock at 1306 MHz for superb performance

Improved Dual-X cooling with two 95 mm fans

Software-based Fan Health System for fan health monitoring

SAPPHIRE Fan Service with Quick Connect for comfortable warranty-covered fan exchange

NITRO Glow customizable RGB LED lighting system

Future-proof technologies with support for HDMI 2.0b and DisplayPort 1.4, and a full 8 GB GDDR5 memory