An interesting tidbit has hit the internet, with Hardware.fr's Damien Triolet claiming that ASUS and MSI are sending GTX 1080s to the press with modified BIOSes. The modified BIOS is enabling more power on the review samples, which are provided boosted performance - and thus, better reviews.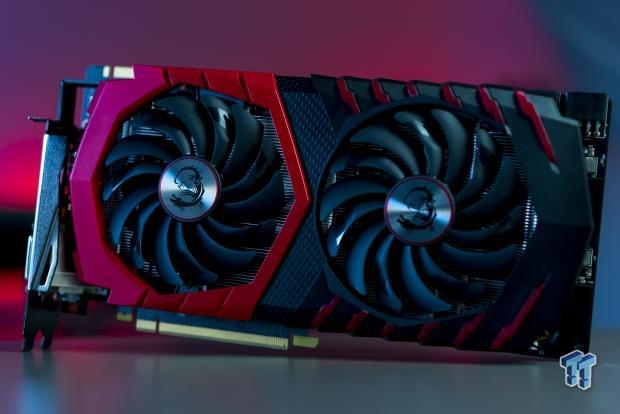 The report claims that the optimized BIOSes are common in the industry, with manufacturers encouraging GPU reviewers to enable special overclocking presets before reviewing the cards, reports VideoCardz. Now, I've been reviewing GPUs for nearly two years with TweakTown, and I've never been approached once by a company asking to do this - so I don't know where that part of the claim is coming from.
Hardware.fr's Damien Triolet adds that he asks manufacturers to provide retail BIOSes for his testing, with manufacturers not being too happy about having to provide the software. The two cards on the table in the middle of this debacle are the new MSI GeForce GTX 1080 Gaming X 8G (with our review on that card here) and the ASUS GTX 1070 Strix. We tested the MSI card and our sample was being overclocked past a certain speed, but I underclocked it to its advertised Boost clocks for my testing. I presumed it was the EVGA Precision X software playing around with the clocks, but maybe MSI has sent an overclocked card - so I thought I'd do some digging on my own.
I now have the MSI GeForce GTX 1070 Gaming X 8G here, and it has an advertised 'Silent' mode with a Boost clock of 1683MHz - which is the one enabled by default. Except that when I installed it into my test bed, I was hitting a Boost clock of a freakin' unbelievable 2088MHz. Now this is absoluely huge, as even the 'OC mode' only hits a Boost clock of 1797MHz. I used EVGA's Precision X software to downclock the card 200MHz, which pushed it down to a Boost clock of 1873MHz, and now I have to manually shove it down further.
I've reached out to MSI for clarification, and will be keeping a very keen eye on any and all GTX 1080 and GTX 1070 samples that we receive. If I find out companies have been doing this, you can expect a gigantic backlash from us - as this is not on, at all.