E3 2016 - Microsoft's ultra-powerful Project Scorpio may be the first console to push into native 4K gaming.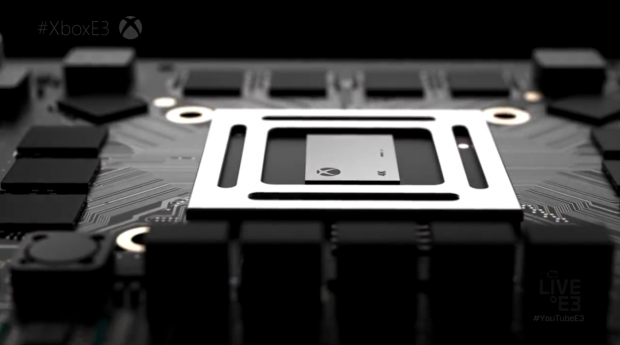 Microsoft has made it clear that its new 4K-ready Project Scorpio console is a huge step forward, saying things like the console will sport "the highest res at the best frame rates without no compromises." We've speculated that the high-end Xbox Scorpio will be powered by "the most powerful console GPU ever" in a new semi-custom SoC based on AMD's powerful 14nm Polaris GPU and Zen CPU, and now Microsoft may have just confirmed native 4K gaming support for the console. This effectively means Microsoft is bringing enthusiast-grade console hardware to gamers, and for the first time we'll be getting a true next-gen console.
"Scorpio is for the person who's got a 4K television, who's really focused on 4K gaming. This is really a six teraflop console built to support 4K and the power of high fidelity VR. It's going to be a premium price over what we're selling [Xbox One S] for, and both of them will exist in the market at the same time. Scorpio is for your 4K gamer. And that's what we designed it for," Xbox division head Phil Spencer said in a recent interview with Eurogamer.
Phil Spencer went on to say that the Project Scorpio won't work very well on HDTV's, outright saying you'll need a 4K UHDTV to make the most of the console. The system is still compatible with HDTVs, but you'll likely get Xbox One-grade performance in 1080p.
"[If you have a 1080p TV] then you should buy the [Xbox One S], because Scorpio is not going to do anything for you. Scorpio is designed as a 4K console, and if you don't have a 4K TV, the benefit we've designed for, you're not going to see. Clearly, you can buy Scorpio, and if and when you decide you want to buy a 4K television to take advantage of the increased performance, obviously the console will be ready for you."
The Xbox boss further stated that the team did a lot of research about 4K, asking developers about what kinds of specs they'd need to hit for a "true 4K experience". The result, as Microsoft put it, is a console that "developers asked us to build."
"We looked at 4K, talked to creators, you saw Todd Howard in our video, Patrick Soderlund from EA in our video, talked to creators about the work they were doing on PC in order to hit a true 4K gaming experience, and six teraflops is what we needed to go hit, so we designed for that."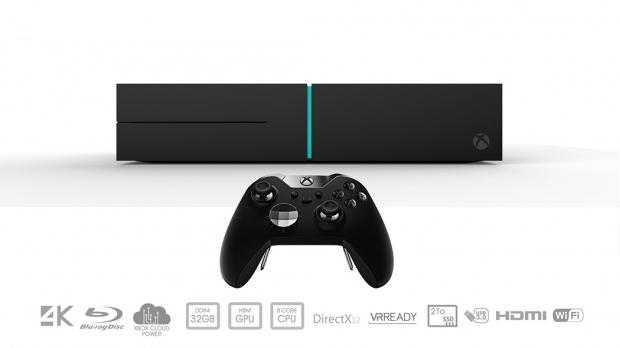 Xbox One Scorpio confirmed specs:
6 TFLOPs of performance

320GB per second memory bandwith

8CPU Cores
One interesting thing to note is that Spencer goes on to claim some games will run at 4K 60FPS, which maintains that the Xbox Scorpio may just utilize 4K upscaling instead of native 4K resolution. Given that older Xbox One games will still be playable on the system in 1080p, it's likely there will be some sort of graphics scaling technology utilized in combination of "true" native 4K resolution. So games may be able to run in 1080p 60FPS, 1080p upscaled to 4K at 60FPS, and native 4K at, say, 30FPS.
The weird thing is that the Scorpio won't have its own games library--all of its games will be shared with the Xbox One S and Xbox One consoles, too. Now if the Scorpio had its own games on UHD Blu-rays then native 4K would make much more sense (but 4K game sizes would wreak havoc on download bandwidth), especially if the console just played regular Xbox One games in a 1080p "backward compatibility" mode. But there is no actual backward compatibility, so to speak, just...compatibility.
But how exactly with this dynamic resolution scaling work? TweakTown's resident video card expert Anthony Garreffa tells me a big "game-changer" could be coming to the console world and Xbox Scorpio.
"On a console to console experience, when we designed Scorpio and we said 4K console, we looked at games that are running at, let's say 1080p 60 on an Xbox One, and said we want that same game to be able to run at 4K 60 on a Scorpio. We looked at the design of the games we had on Xbox One today and said, if we increase the resolution and maintain the framerate we have, could we hit that?"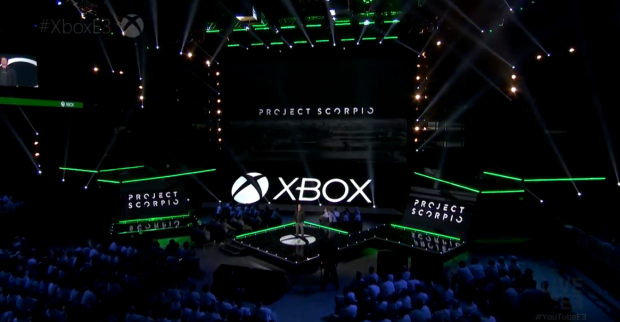 As for the games, Project Scorpio will "absolutely not" have any exclusive titles. All Xbox One games will be playable and compatible on the system, and Project Scorpio may leverage extra features and content put on-disc. "The Scorpio games are obviously designed to take advantage of six teraflops and 4K. Your Xbox One, you were playing those today. You know what those look like and feel like. But there won't be Scorpio exclusive console games. Absolutely not," said Xbox marketing exec Aaron Greenberg.
Bear in mind that nothing is confirmed so far, and Microsoft hasn't outright said that native 3840 × 2160 gaming is supported on the console. But they have consistently said things like "true 4K", which certainly sounds a like "native" to me. In any case, we'll be sure to update you once we hear more about the console in the coming months--especially at Gamescom in August and the Tokyo Game Show in September.
"So we gave the SoC 6TFLOPs of computing capability to be able to handle 4K resolutions. Gamers are going to get the most powerful graphics processor that's ever been put into a games console to date," said an Xbox engineer. "You get 4K gaming--true 4K resolution. The box we're creating is incredible. It's gonna have 8CPU cores, 320GB/s memory bandwith, 6TFLOPs of GPU power--it's a monster. We can render at 60Hz we can render fully and uncompressed pixels--the highest quality pixels that anybody has seen."