E3 2016 - While we are still officially under NDA about the next-gen Polaris cards from AMD, the company revealed the line up at E3 2016 just now. AMD has made the Radeon RX 470 and RX 460 official, two new mid-range cards that will join the VR-focused RX 480 that's priced at just $199.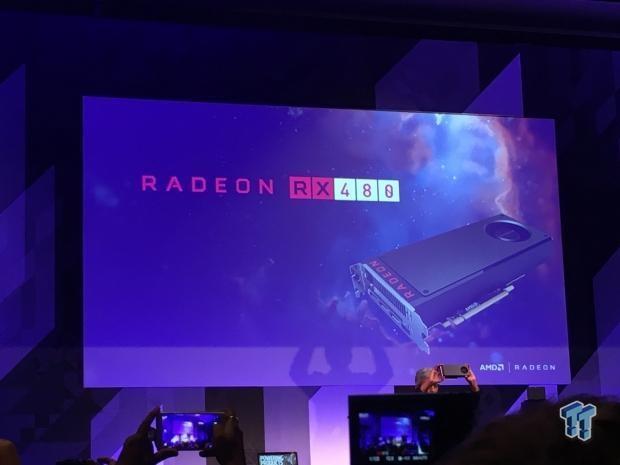 Starting with the Radeon RX 470 which is delivering "refined, power-efficient HD gaming" while the RX 460 is a "cool and efficient solution for the ultimate eSports gaming experience". The new Radeon RX series of video cards provide three fundamental "entitlements" for PC gamers and game developers.
Extraordinary VR experiences at price points never offered before - Previewed at Computex, the Radeon™ RX Series will expand the VR ecosystem by democratizing exceptional VR experiences, making them available to many form factors and millions of consumers by lowering the cost barriers to entry.
Great game content delivered to PC Gamers in real-time - Through a combination of Radeon™ RX Series performance profiles and close-to- the-metal APIs that closely mirror console APIs, AMD believes that developers will be further empowered to co-develop high quality, high performing game content for both consoles and PCs, enhancing the PC gaming ecosystem.
Console-class GPU performance for thin and light notebooks - Gaming notebooks have traditionally been large and cumbersome or under-powered for today's gaming needs. The Radeon™ RX Series addresses this with flagship technology that effectively gives mobile users GPU performance that rivals that of consoles with exceptionally low power and low-z height to drive thin, light and high-performance gaming notebooks, and 1080p 60Hz gaming experiences for both eSports and AAA titles.
Raja Koduri, the Senior VP and Chief Architect of Radeon Technologies Group said: "Gamers and consumers today are being left behind. Today only the top 16 percent of PC gamers are purchasing GPUs that deliver premium VR and Gaming experiences. Hundreds of millions of gamers have been relegated to using outdated technology. Notebook gamers are often forced to compromise. And tens of millions more can only read about incredible PC VR experiences that they can't enjoy for themselves. That all changes with the Radeon™ RX Series, placing compelling and advanced high-end gaming and VR technologies within reach of everyone."
AMD will be launching their new Radeon RX series of video cards very soon, and you can be sure we'll be covering them in a big way. I'm actually just as excited about a $199 as I am to the $699 cards from NVIDIA, as these are the cards "for the people". The gamers who don't have $500+ to spend on a new card, opening AMD up to tens of millions of gamers who want, or need to upgrade to something new.