UPDATE: EVGA's Jacob Freeman says that the RGB high-bandwidth SLI bridges are "2-way only" and are expected to release in mid-June. Here's another shot of the lineup.
Computex 2016 - EVGA revealed three new RGB high-bandwidth SLI bridges for NVIDIA's new GeForce GTX 10-series video cards, allowing users to add a bit pizzazz and style to their new EVGA-branded GTX 1080 cards.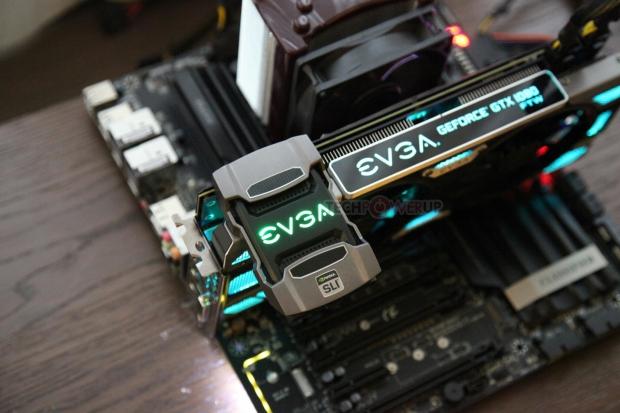 EVGA's new 2-way HB SLI bridges sport full RGB illumination that can sync up with the RGB colors on EVGA's new GeForce GTX 1080 FTW and EVGA GTX 1080 Classified video cards, adding quite a bit of stylish flair to any enthusiast build. The new high-bandwidth SLI bridges come in three different sizes for various configurations: 1U (small size with no gap between the cards), 2U (medium-sized with a one-slot gap between the cards), and 3U (longer with a two-slot gap between the cards).
It appears EVGA only showed 2-way SLI bridges at Computex, as NVIDIA is prioritizing 2-way SLI with the Pascal line. The new GeForce GTX 10-Series HB SLI bridges will likely be sold separately.