Microsoft is plotting to overthrow Sony's console reign with a new high-performance 4K-ready Xbox console that's four times as powerful than existing Xbox One hardware.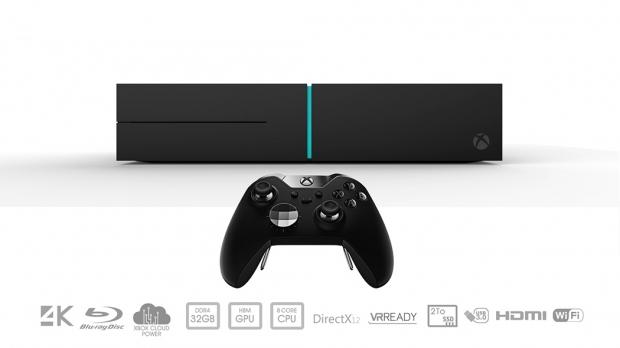 According to recent reports, Microsoft will release a dramatically overhauled Xbox console (codenamed Scorpio) in late 2017. Inside sources told Polygon that Microsoft is targeting 6 TFLOPs of performance with the Xbox Scorpio, making the new Xbox 1.5 times faster than Sony's new upgraded PlayStation Neo (PS4K, PS4.5). Like the PS4K, the Xbox Scorpio will leverage its higher-end hardware to push 4K gaming and 4K video playback. It's likely the Scorpio will upscale 1080p to 4K instead of native 4K gaming, and the console is expected to be fully backward compatible with all existing Xbox One games.
Reports indicate the new Xbox will ship with Oculus Rift support baked in, with Microsoft partnering with Oculus to counter Sony's PlayStation VR headset. If these reports are true, the Xbox Scorpio would theoretically be capable of delivering desktop-grade VR performance with the Rift. PC-quality VR is quite demanding, so the Xbox Scorpio would likely need a dedicated video card solution, and we may even see the first-ever external console video cards with AMD's new GPU enclosure. Armed with powerful dedicated video cards or external GPUs the Scorpio could likely hit native 4K 30FPS depending on the card.
Scorpio's specs have yet to be leaked or speculated upon, but we can get an idea of what to expect by looking at the PS4K's leaked specs (see below).
PS4 Neo specs
CPU: 8 Jaguar Cores at 2.1 GHz
GPU: Improved AMD GCN, 36 CUs at 911 MHz (possibly built on Polaris10 Ellesmere?)
Memory: 8 GB GDDR5, 218 GB/s
Redmond originally planned to reveal the Xbox Scorpio at E3 2017, but reports of the imminent reveal of Sony's PS4K forced the company's hand. Now Microsoft is expected to unveil the next-gen Xbox console at E3 2016, along with three other pieces of new hardware.
Microsoft is also expected to reveal a smaller, upgraded Xbox One at E3 2016. The Xbox One Mini will be 40% smaller than the current Xbox console and may support 4K video playback, according to The Verge.
To fill out its lackluster living room media options, Team Lime Green will show off two new streaming devices at E3--a small $100 Chromecast-like media-streaming stick, and a bigger set-top box. The set-top box is rumored to be an Xbox version of NVIDIA's Shield TV box that will support game streaming from Windows 10 PCs and Xbox One consoles.
Microsoft's E3 2016 press conference will be held on Monday, June 13 at 9:30AM PST.
Everything we know about the Xbox Scorpio so far: