EA wants to monetize spectating in competitive gaming
EA plans to rake in earnings with a new mainstream competitive gaming sector based on sponsors, microtransactions, and paid spectating.

Published Wed, May 18 2016 6:12 AM CDT
|
Updated Tue, Nov 3 2020 11:59 AM CST
EA plans to fold in its own player-centric brand of competitive gaming into its business model, with features like "pay to spectate."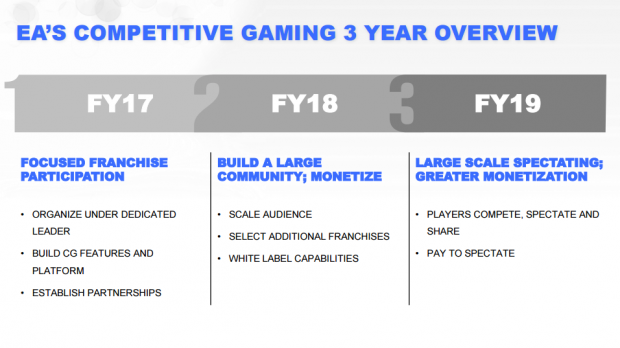 Over the next three years, EA will build its own competitive gaming sector that will bolster the company's revenue streams. The publisher makes it clear that competitive gaming is not eSports; instead of building up individual teams, EA wants to "make all stars out of all our players". Naturally this is accompanied by a whole new stream of money-making schemes, including monetized spectating and a heavy emphasis on in-game micro-transactions.
That's right: EA really wants to make people pay to watch competitive matches. The publisher claims that spectating isn't just about entertainment, but also teaching players new skillsets, which is actually true--and the company sees lots of opportunities in monetizing this. The competitive gaming arm is set to flex in the next 18 months and be fully established by FY 2019. EA will start with three major foundation goals: organize under a dedicated leader (likely an EA-branded competitive gaming sector), build core game features and platform, and establish partnerships with the biggest brands, devs, and names in gaming.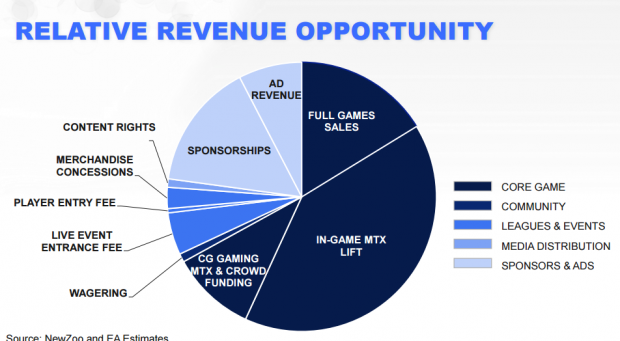 The publisher notes that the competitive gaming structure will be a boon to player engagement, and likely push engagement across a variety of IPs and brands--most of which will likely be inundated with monetized purchases.
EA also figures it can earn quite a bit of cash from eSports-like sponsorships, live event ticket sales and merchandise, ad revenue, and a huge smattering of "in-game MTX lifts." In this case, "MTX" means "microtransactions." This competitive gaming plan folds neatly into EA's projections to double "extra content" by 2020, which includes DLC, season passes, and in-app micro-transaction purchases.
We could even see a new paid subscription for paid spectating and a monthly cache of micro-transaction currency to spend on games.
EA hasn't revealed which games will be included in its competitive gaming sector, but expect to see its major sports games like FIFA and Madden in the mix, as well as new FPS titles like Battlefield 1 and Titanfall 2. Combining a pay-to-watch competitive arm with EA's Ultimate Team sports scheme is a double whammy and will assuredly pull in tons of cash.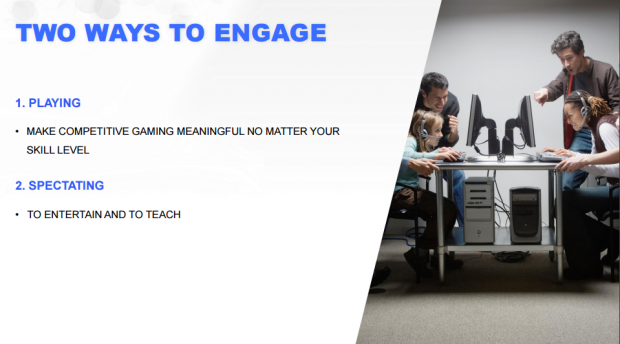 Related Tags