Doom's Nightmare graphics setting requires an insane 5GB+ VRAM
Doom's shadow quality can go past Ultra, but the improvements aren't that impressive.

Published Sat, May 14 2016 9:10 AM CDT
|
Updated Tue, Nov 3 2020 11:59 AM CST
Doom's graphics settings actually go past Ultra--you can unlock the so-called "Nightmare" setting for in-game shadows, but it calls for video cards with an insane 5GB+ VRAM minimum...all for minor improvements.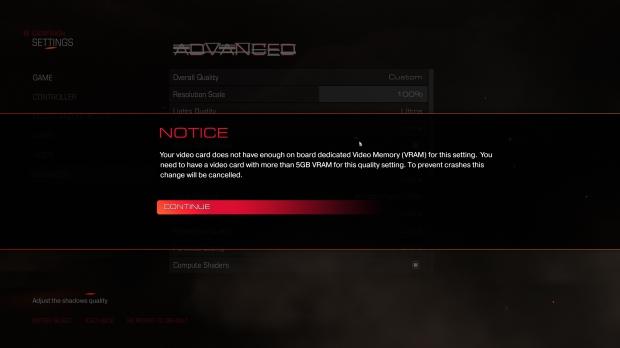 Doom's new Nightmare graphics setting is pretty demanding, requiring a video card with a minimum of 5GB+ VRAM to even turn on, so you'll have to have an NVIDIA GeForce GTX Titan X, 980 Ti, Titan, or an AMD R9 390/390X/290X to push your shadows past Ultra in the hellish shooter.
Naturally, you'd expect Nightmare mode to be a sizable leap in fidelity, especially being powered by 5GB+ VRAM, but the jump isn't that eye-boggling. Toggling on Nightmare does improve shadows and field of view, adding in more definition to faraway environments, but the differences aren't that dramatic. Keep in mind the mode isn't exactly a fully-fledged preset and only pushes two different options past Ultra: Shadows Quality and Virtual Texturing Page Size.
Also bear in mind that this is just one scene, and the Nightmare settings could look much better in other areas of the game.
Related Tags