No disc option or Collector's Edition for Battlefield 1 on PC
Battlefield 1 will be digital only and won't have Collector's Edition, Amazon listings indicate.
Published Mon, May 9 2016 2:23 PM CDT
|
Updated Tue, Nov 3 2020 12:00 PM CST
Amazon's listing for World War I shooter Battlefield 1 indicates PC players will not have the option to grab a disc version of the game or a Collector's Edition.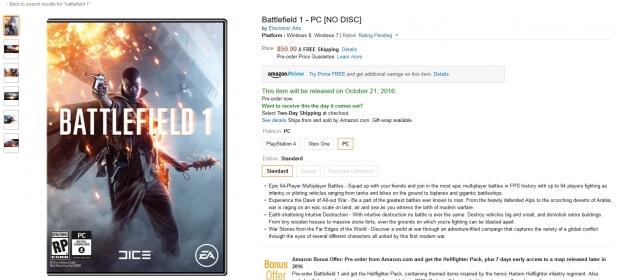 Listings on the site note read "Battlefield 1 - PC [NO DISC]", with no other option to choose from, and no PC Collector's Edition is listed anywhere. A PC Deluxe Edition is also not listed. However, this can be had through EA's Origin client.
The lack of disc is not surprising: RPG developer and publisher Larian Studios stated in 2014 that just 10% of its Divinity: Original Sin sales came from retail (and while Battlefield 1 won't necessarily see the same figure, it's reasonably to expect a similar result). Given the intense costs and effort associated with putting a product on shelves across the globe and many different retailers, it's not surprising Electronic Arts appears to be ditching the option and focusing entirely on digital instead.
As for the Collector's Edition console exclusivity, this is nothing new, although perhaps less logical. In the case of Battlefield 1, it will run you over $200; given PC gamers tend to spend a lot more on hardware, it's not unreasonable to think they'd be more likely to spend that kind of cash for the extras.
We've inquired with EA for comment and will update this story should we hear back.
Related Tags