Windows 10 hand-off feature shown in leaked screenshot of Redstone
Microsoft's hand-off feature, similar to OS Xs, might have been found in a new leaked screenshot from the Redstone build of Windows 10.
Published Apr 27, 2016 8:51 AM CDT
|
Updated Wed, Jul 27 2022 3:39 AM CDT
Hand-off of tasks from mobile to desktop has become a bit of a blessing. It's easy to begin work, or even browsing Facebook, on your phone and simply start up where you left off on your larger and more powerful devices. For those that use various Apple devices, it's a natural element of those operating systems. And one that's sorely missed from Windows. Windows 10 might be getting similar functionality in the Redstone update coming this summer.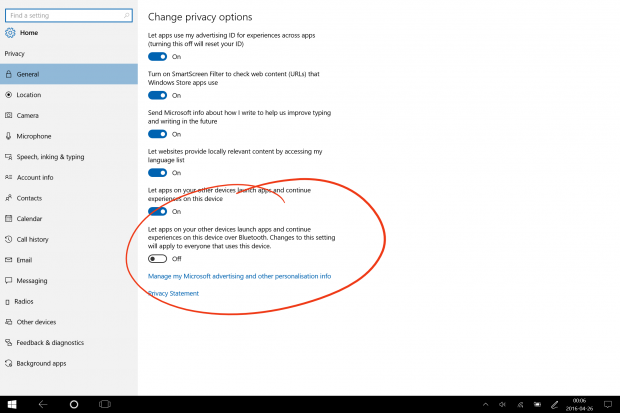 A user on Reddit seems to have stumble across what appears to be just that in the latest preview build of Redstone. A toggle was found nestled in the settings pane that would allow you to continue work on whatever device is running Windows 10, with Bluetooth, aside from using a cloud based solution like some applications and OS X do.
Though it's obviously limited to other Windows 10 devices, and could theoretically include the Xbox One, it's still a step in the right direction. You never really know or understand just how useful a future that is until you've migrated to an OS that doesn't fully support it. Just being able to select the mobile tabs in Chrome that I was perusing is quite nice, but this new take, with Bluetooth mind you, will be a much needed advancement for Microsoft.
Related Tags