Amazon recently locked select video game pre-orders behind Prime subscriptions, and now the retailer is doing the same thing for tech deals.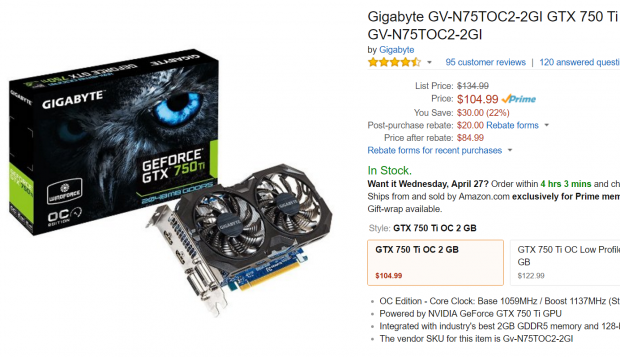 Amazon is starting to lock specific tech deals behind an Amazon Prime subscription, meaning everyday users won't be able to take advantage of sales. The paywall was spotted on a recent sale on a GIGABYTE GTX 750 Ti whose $104.99 sale price is exclusive to Prime users. "Exclusively for Prime Members - This item at $104.99 is reserved for Prime members," reads the listing.
The listing was originally spotted on the BuildaPCSales subreddit, who notes that only Amazon-fulfilled deals are Prime exclusive.
This is a pretty disturbing trend for sale hounds everywhere, especially gamers who are always looking to find awesome tech deals to upgrade their rigs. We're not sure how far Amazon will push this new initiative, but I'm guessing that pretty much every Amazon shopper will be heavily incentivized to pick up Prime eventually.
This new push aligns perfectly with Amazon's decision to un-bundle Prime and offer monthly subscription rates.