Amazon's Prime service, while a paid one, does have a number of really beneficial advantages if you happen to use Amazon frequently. Free two-day shipping, access to Prime-exclusive movies for free and even discounts on the pre-ordering of games, come to mind. It seems that they might be selling some games, direct, only to Prime members, and it's a little confusing.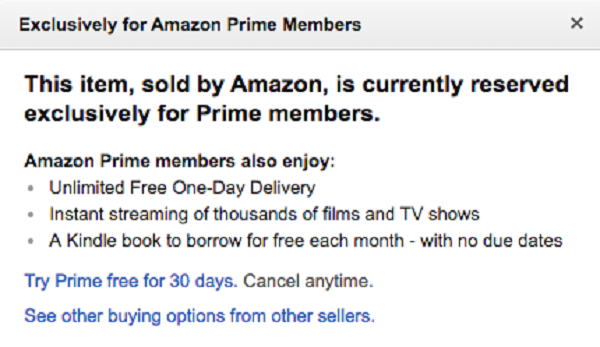 A small selection of games can only be bought directly from Amazon if you have Prime. That is, if you're looking for FIFA 16, Dishonored: The Definitive Edition, Minecraft, Assassin's Creed Syndicate, Battlefield Hardline, Middle-Earth: Shadow of Mordor Game of the year, and Metal Gear Solid 5: Ground Zeroes. Amazon says that being able to buy certain games is a benefit of being a Prime member, even though you can simply buy them from the Marketplace, or somewhere else completely.
Gamesaradar has stumbled across the issue, though I've yet to be able to recreate it through friends that don't have Prime. Even when not signed-in, the desktop site doesn't indicate that it's a "Prime Only" deal. At least the desktop site is devoid of any indication. It could also be region specific, being that the article was written from by someone in the UK. Regardless, if it is indeed a growing trend, then it's odd that they would do such a thing without having, at the very least, a suitable discount that makes it more lucrative to use Amazon instead.
If you happen to see any other strange Prime only activity, let us know, because this one we haven't seen first-hand quite yet.