Intel unveils its new Apollo Lake platform, built on 14nm technology
Intel's new 14nm-based Apollo Lake platform revealed, will make a great low-cost PC platform.

Published Fri, Apr 15 2016 11:14 PM CDT
|
Updated Tue, Nov 3 2020 12:00 PM CST
Intel has officially unveiled its new Apollo Lake platform, which is the next-generation family of Atom-based notebook SoCs. Apollo Lake uses a new x86 microarchitecture, as well as a new generation graphics core that will provide more performance.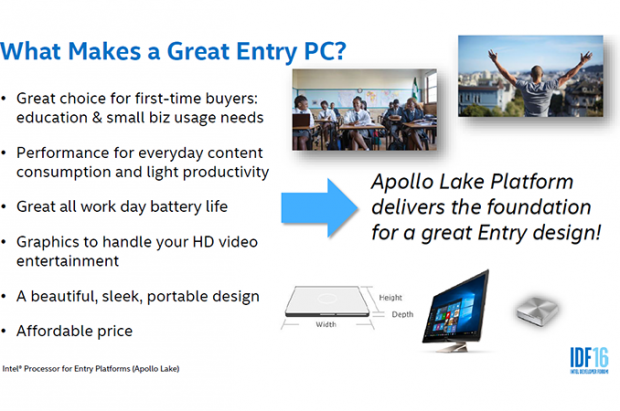 The new Apollo Lake family is set to take on the affordable all-in-ones, mini PCs, hybrid devices, notebooks and even tablet PCs when it launches in the second half of this year. Apollo Lake is built on the new Atom-based x86 microarchitecture known as Goldmont, with a new graphics core that includes Intel's impressive 9th-generation architecture that is found in the current Skylake processors.
The new Apollo Lake family includes support for dual-channel DDR4, DD3L, and LPDDR3/4 memory which allows PC makers to make devices with all sorts of form factors, thanks to the impressive memory support. We also have support for the usual SATA drives, PCIe x4 drives and eMMC 5.0 - USB Type-C support is also included, as well as various wireless technologies.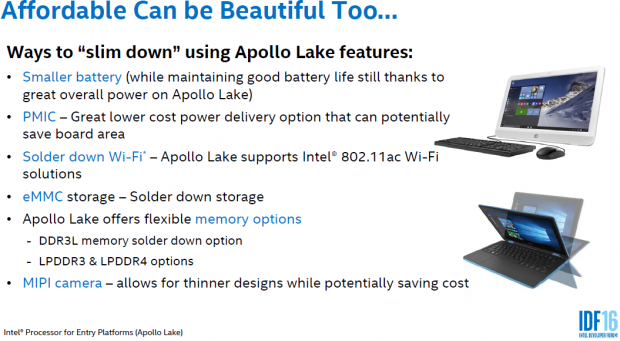 Intel says that the upcoming affordable PCs should be very thin, and according to their market research, thinner devices (mini PCs, hybrid PCs, 2-in-1 hybrids, and so on) are what consumers want.
In order to get devices thinner, Intel traditionally proposes to use their M.2-based storage, or solder-down eMMC SSD options, instead of the usual 2.5-inch HDDs and SSDs. Intel says that it makes sense to use solder-down Wi-Fi instead of a separate module for space savings, too.
Intel, for the first time ever, is proposing the use of smaller batteries - but with devices that feature longer battery life by cutting the power consumption of the entire platform. Smaller batteries usually make sense, but with high-resolution displays that consume lots of power, it's hard to reduce the size of batteries - while keeping the premium trimmings on the product.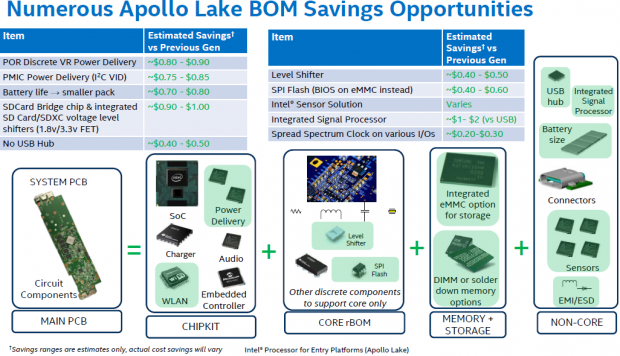 Intel is pushing to their reference core components design being used for all sorts of different form factors, while revealing the bill of materials (BOM) savings opportunities with Apollo Lake. This is courtesy of the increased SoC integration, as well as Intel pushing a recommended set of components.
All of the savings can make a big difference for the BOM, between $5.55 and $7.35 - which allows for double the memory, or a better display - all for the same price, with a next-generation device. Not too bad at all.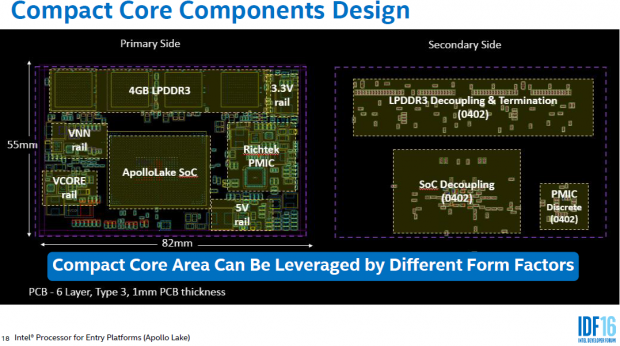 Intel looks to be aiming its reference design for Apollo Lake-based PCs for the tablet and 2-in-1 hybrid devices, featuring an 11.6-inch 1080p 10-point multi-touch display, 4GB of LPDDR3-1866 RAM, 64GB M.2 SATA3 SSD or 32GB eMMC storage.
We'll also see an M.2 wireless module supporting 802.11ac Wi-Fi, an optional M.2 LTE modem, an integrated USB 2-based camera, a bunch of sensors (including an accelerometer, ambient light, proximity detection, and magnetic switching), as well as a USB Type-C connector that supports USB power delivery and alternate modes.
We should see more on Intel's new Apollo Lake platform in the coming months, especially so at Computex which kicks off in early-June.
Related Tags