Enter the Gungeon launch trailer shows off animated mayhem
Enter the Gungeon gets a delightful new launch trailer that shows you why rogue-like dungeon crawlers can be cute too.
Published Tue, Apr 5 2016 10:06 AM CDT
|
Updated Tue, Nov 3 2020 12:00 PM CST
The launch trailer for Enter the Gungeon is exactly what you'd think if you were following the game's development; full of violence, awesome music and lots more animated mayhem. It's cute, though. But that's not the usual pronoun assigned to such a thing as this. Check it out for yourself though, and be the judge.
It's a rogue-like dungeon crawling extravaganza with procedurally generated levels. Sure, there's been quite a few of them over the past few years, but that doesn't mean that they're all alike or cookie-cutter. This one takes itself seriously, but then throws that out the window in the most adorable way. It's also challenging and incredibly fun. Not the 'throw your controller or keyboard out the window' type of challenging, but the "I've gotta try that again!" type of challenging. It's an odd mix that pulls you in almost instantly, even if you don't initially like the look of it. It's... weird.
If you dare to challenge yourself thusly, you can find Enter the Gungeon on Steam for $13.99 right now. Other players, or 12 users that have reviewed it thus far, seem to really be enjoying it. That means you might too. I got sucked in and my capsule review is already late because of it.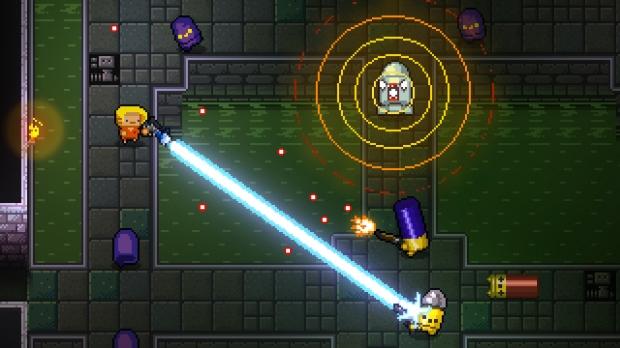 Related Tags