The Khronos Group's open source Vulkan API launched publicly last month, which brought some to wonder if Star Citizen would come to support it. Development subscriber Kyran inquired on exactly that for the '10 for the Chairman' Q&A video series, to which Chris Roberts, Chairman of developer Cloud Imperium Games, responded with what could be interpreted as a yes.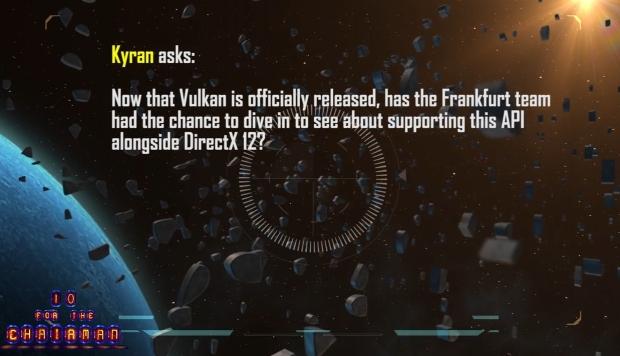 "We have looked at Vulkan; we're pretty excited by it," he says. "So we are considering our options between Vulkan and DirectX 12. We haven't made a full decision."
He continues: "Vulkan has some advantages, the biggest one being as long as it works properly that it can work on a PC but also work on Linux and work on other platforms, whereas DirectX 12 is specifically just for Windows. They are both very similar architectures; essentially Vulkan's not that different from what Mantle was originally set up to be. So we're considering it. You never know whether we will do DirectX 12 or Vulkan first."
What leads us to believe this could be a 'yes' is that last bit, which implies it's more a matter of when, not if. Stay tuned!