Assassin's Creed Syndicate patch 1.4 is out, improves performance
Assassin's Creed Syndicate has been updated to version 1.4 which brings enhanced stability and better performance to the PC among other things.
Published Thu, Feb 25 2016 1:04 PM CST
|
Updated Tue, Nov 3 2020 12:01 PM CST
Assassin's Creed Syndicate just got a new patch that seems to focus the most on improving performance all around. It wasn't the worst performing AC game on release, but it also wasn't the smoothest experience from a new game either.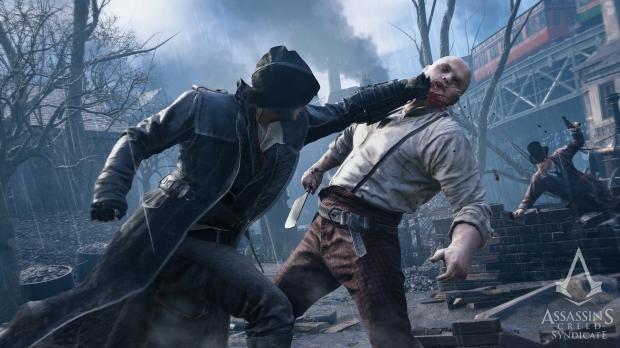 Unlike the misstep that was the release of Assassin's Creed Unity, Syndicate had fewer bugs and game-breaking glitches when it became available. The crowd density was reduced in order to help alleviate some of the issues regarding framerate while walking around the bustling city. That helped, but the increased environmental geometry, improved ambient occlusion along with increased shadow map rendering quality has made for quite the resource hungry game.
SLI in particular scaled horribly in the beginning, though it works quite well now. Ubisoft has been very quick to react to player feedback this time around putting out patches that have solved nearly all the issues and glitches that did, unfortunately, happen to make it into the final release of Assassin's Creed Syndicate. Curious if your system is any better, download the patch and let us know!
Assassin's Creed: Syndicate - Patch 1.4 Changelog:
PC
Added DLC - The Last Maharaja support

Fixed "Jack's message" puzzle issue

Fixed crash in World War I mission

Fixed crash on Title Screen when downloading Jack The Ripper

Fixed geometry corruption on Intel integrated GPU

Fixed TXAA shaking

Fixed several render issues

Fixed several UI issues

Fixed few online issues
Online
Fixed an issue where glitches might fail to award the player Helix rewards

Fixed an issue where the permanent XP Boost from the Season Pass would not be present in some cases
World/3D/Menu/HUD
Fixed a typo with the Military Chapel's bombing description

Fixed an issue where the "Legendary Assassin kukri" would appear uncrafted and unusable after crafting it

Fixed an issue with some achievements unlocking when they should not
Mission
Fixed an issue in the "A Night to Remember" mission where the user could be stuck outside the vault in some rare cases, leaving no possibility to progress further

Fixed an issue, in the "Jack the Ripper" DLC, in the "Jack's Lieutenants" mission where the objective would not update

Fixed an issue, in the "Jack the Ripper" DLC, in the "Letter of Intent" mission where it could fail without a desynch in some specific cases
Stability/Performance
Improved performance and stability
Related Tags