Wanna run Windows 98 for some reason? Why not in your browser!
Someone has gone and created an emulator running on JavaScript that can load Windows 98 and other, simple, OS's to play with.
Published Wed, Feb 24 2016 2:06 PM CST
|
Updated Tue, Nov 3 2020 12:01 PM CST
Through the magic of a well designed JavaScript engine you can play with a Windows 98 virtual machine right in your browser, playing some classic minesweeper just as it was originally intended.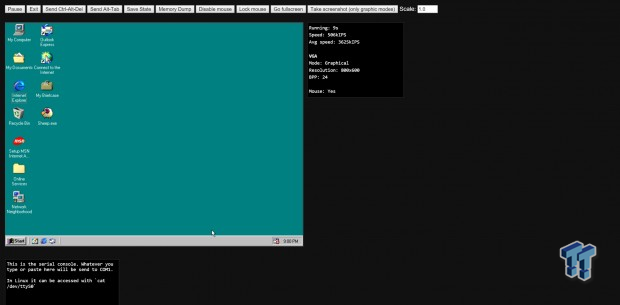 The emulator is capable of only basic x86 emulation at the moment, but the small program is a great example of just how capable JavaScript, in the hands of adept programmers, can actually be. You won't be able to do anything more than simple tasks, and can't play retro games, but it's certainly a very interesting project.
What's more, the individual whose made the project has also been able to emulate Windows 1.01 and certain versions of Linux that all work just swimmingly. So if you're of the generation that never knew the glory of Windows 98, now's your chance to play around without having to install it in your own virtual machine. And you can easily dabble in Linux without the need for a Live-CD and even dabble in FreeDOS.
Related Tags