Amazon's new games engine is powerful, flexible, and totally free
Devs can use the power of Amazon's cloud to create PS4, Xbox One, PC and even VR games--all with native Twitch integration.

Published Tue, Feb 9 2016 11:31 AM CST
|
Updated Tue, Nov 3 2020 12:01 PM CST
In an attempt to woo developers, Amazon has released a brand new cloud-connected games engine to go up against established suites like Unity and Unreal. And the best part is that it's totally free.
Amazon's new engine is called Lumberyard, it's completely free with full source code, and it's a fully-realized suite of tools that can power high-end AAA games. Lumberyard is partly based on the CryEngine so it's able to create games for a smattering of platforms including PS4, Xbox One, and PC. Amazon even promises that VR support is in the pipeline, along with mobile integration.
Unlike most game engines, Lumberyard has a secret weapon that gives it a distinct advantage: full cloud integration with Amazon Web Services. Devs can tap the power "the vast compute and storage of AWS Cloud" for an extra computational boost and to optimize server-side processes in a variety of games.
If that wasn't enough, Amazon has incorporated its game streaming service Twitch into the engine. Lumberyard has a Twitch Chatplay feature that lets players invite other spectators to not only watch streams and chat in real-time, but actually interact with the session by voting for maps or even taking control of the game with Twitch JoinIn. This is similar to Sony's Share Play function with the PS4 or TwitchPlays.
According to Mike Frazzini, VP of Amazon Games, Twitch support was centered around "creating experiences that embrace the notion of a player, broadcaster, and viewer all joining together."
Lumberyard can also create mod-friendly games, which is a huge plus considering how user-created mods can dramatically expand a game's lifespan. Devs can basically make their personal version of a Fallout G.E.C.K. modding toolset and distribute them to players. That's pretty damn cool.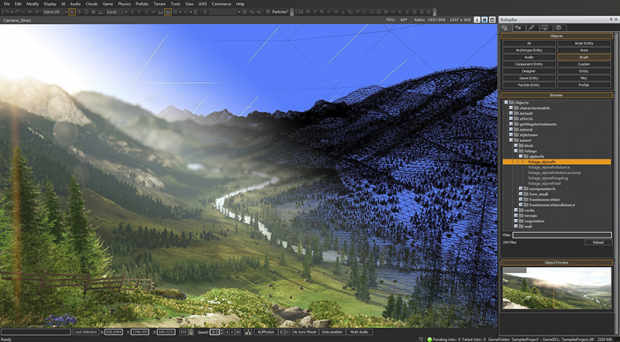 Last but not least, Amazon is releasing a cloud-based service called GameLift which is a thrifty answer to building a multiplayer backend server. Optimized for "deploying, operating, and scaling session-based multiplayer games," GameLift is a set of tools that lets developers easily scale multiplayer servers without requiring backend experience.
As for the future of Lumberyard, the retail giant says that this is just the first step in a unique, long-term plan. "We're going our own direction here, and over time that will increase substantially," Lumberyard general manager Eric Schenk told Gamasutra. "The engine has an entirely new asset pipeline and processor, not to mention the new Double Helix networking code. We also have a new component system and particle editor, and a number of other things aren't quite ready to talk about yet."
With the announcement and release of all these tools, it's clear that Amazon is serious about making its mark in gaming. It'll be interesting to see how Lumberyard and its toolset compares to the game-powering engines, but we'll have to wait a bit before devs tinker and experiment with it before we know for sure.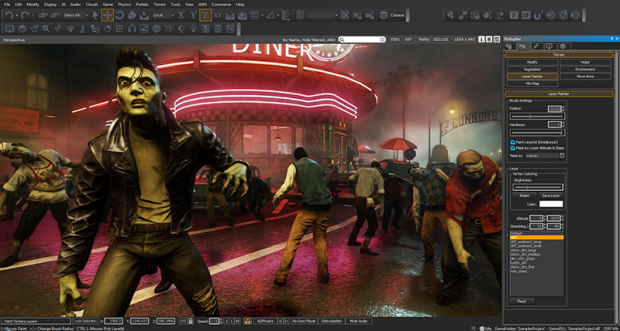 Related Tags