NVIDIA's new $40 video card is '10x better than integrated graphics'
Gaming on a budget? NVIDIA has just released a cheap $40 DX12 card that can deliver 'up to 10x the performance of integrated graphics'

Published Wed, Jan 27 2016 2:33 PM CST
|
Updated Tue, Nov 3 2020 12:01 PM CST
NVIDIA has just launched its new GeForce GT 710 video card, a cheap $40 GPU that the company claims can deliver "up to 10x the performance of integrated graphics", and gaming up to "80% faster" than traditional iGPUs.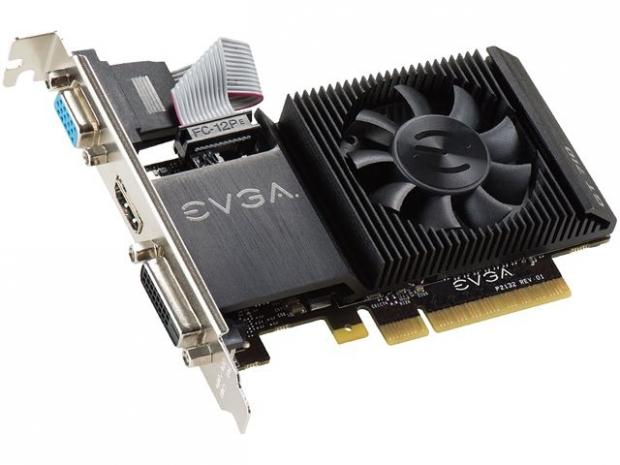 While the GeForce GT 710 gets beaten by Intel HD 530 integrated graphics found in Skylake chips, the card is an excellent option for budget gamers who have older rigs and want a cheap DirectX 12 card. As far as specs go, NVIDIA's inexpensive card uses DDR3 memory on a 64-bit bus with 14.4GB/s bandwidth, has a base clock of 954 MHz with 192 CUDA cores, and a memory clock speed of 1.8 Gbps.
The GeForce 710 supports a host of features including G-Sync adaptive sync, multi-monitor support for up to 3 displays, 3D Vision, NVIDIA's PhysX tech, and is OpenGL 4.5 and DirectX 12-ready out of the box. The card has a maximum resolution of 2560x1600 via HDMI and 2048x1536 on VGA, and features 1x Dual-Link DVI-D port, 1x HDMI and 1x VGA. It requires a minimum 300W power supply to function.
EVGA, Zotac and ASUS market the GeForce GT 710 in 1GB and 2GB flavors. EVGA has four different options for the 1GB and 2GB variants: two actively cooled cards, and two more with heat sinks. Zotac and ASUS just use heat sinks.
You can pick up the new card via NewEgg, which prices the 1GB GeForce 710 at just $35, where as the 2GB model runs at $40. You can bring both totals down by $5 with mail-in-rebates, too.

Related Tags