JEDEC makes GDDR5X official, features 2x the bandwidth of GDDR5
GDDR5X is finalized, and it looks like it'll be a fast alternative to normal GDDR5. It calls for a lot more bandwidth and very little price increase.
Published
1 minute & 8 seconds read time
The final specification for GDDR5X, the successor to GDDR5, has been decided, and though it doesn't allow for quite as much bandwidth as HBM or HBM2, though it's a technology that's a lot easier to implement than the latter, with fewer modifications needed to the GPU design to use.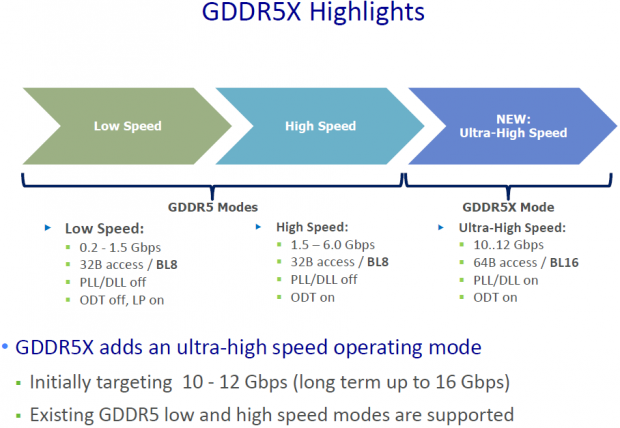 GDDR5X allows for up to 14Gbps of total bandwidth and because it's based so heavily on its predecessor, it's pin compatible though highly internally revised in order to facilitate actual advancements in memory speed and bandwidth without making something entirely new. How JEDEC and Micron have done this is by increasing the prefetch by double, mandating the use of Phase Locked Loops and Delay Locked Loops as well as being able to transmit data at a rate that's quadruple the actual clock speed. In other words, it's fast. For comparison, GDDR5X running at the top-end 14Gpbs could potentially provide 448GBps of full bandwidth, which isn't too far off of the memory bandwidth of the R9 Fury X.
Micron, one of the leading manufacturers working on GDDR5X, estimates around a 10% power consumption decrease at the same VRAM size. VRAM sizes of 4Gb up to 16Gb can be used with the new specification. The reason for coming out with this new specification is to further address every segment of the market, especially those where HBM2 might not be economical, despite AMD's efforts to implement HBM in all segments of their GPUs. Now all GPUs can enjoy a healthy bandwidth increase for very little, if any, cost increase.
Related Tags