In Win H Tower is mind-blowing and your own personal transformer
Introducing the 30th anniversary H Tower by In Win. It's imposing yet beautiful, a true work of art.
Published
0 minutes & 54 seconds read time
In Win is fast becoming an innovator in the world of PC chassis', making some some very nice looking and gorgeous cases that spare no expense. And at CES they showed off the second iteration of the H Tower, which is one of their halo products that takes consumer cases to a whole new level.
In Win's H Tower is a tasteful homage to the custom case market, except that it's not "custom" by the normal definition. It's manufactured, though in a limited quantity, and with exceptional The case is tasteful and not too flashy, with just the right amount of flair. When static, it's actually a testament to good industrial design, evoking an imposing presence.
And when it's in motion it's a fantastic site to behold, and I couldn't help but make the transformer sound (poorly I might add) with my mouth. The lasers that shoot out are a nice visual touch, but they're also practical as they measure the space just to make sure it can open all the way. It wouldn't do to mash up your beautiful H Tower accidentally. But check out the video, brilliantly put together by our very own Brian.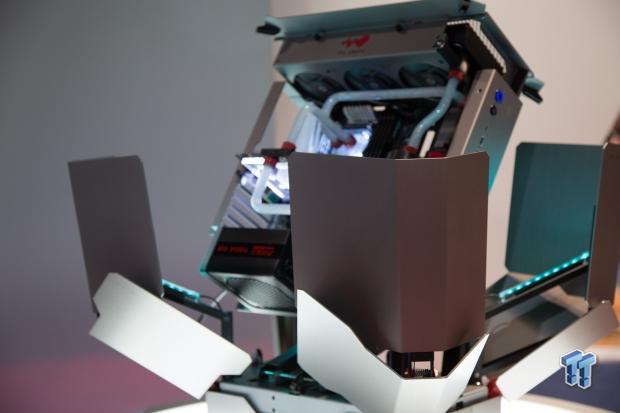 Related Tags