Lenovo refreshes ThinkPad X1 line with OLED laptop and modular tablet
Lenovo's new X1 line includes a Surface Book competitor, a hybrid OLED laptop, and a svelte AIO desktop.

Published Mon, Jan 4 2016 12:26 AM CST
|
Updated Tue, Nov 3 2020 12:02 PM CST
On the heels of CES 2016, Lenovo has announced its new ThinkPad X1 family of hardware that includes a new modular tablet, a new Yoga Pro laptop that sports a 360-degree OLED display, and a sleek new all-in-one desktop.
Lenovo has just unveiled its new ThinkPad X1 triumvirate of pro hardware that will push forward into 2016, sporting tech innovations like OLED screens, ultra-thin AIO setups, WiGig wireless docking, USB Type C and a galaxy of peripheral add-ons like 3D sensors and more. Lenovo's X1 trinity is composed of the ThinkPad X1 Tablet, ThinkPad X1 Yoga, and finally the all-in-one ThinkCenter X1 AIO desktop.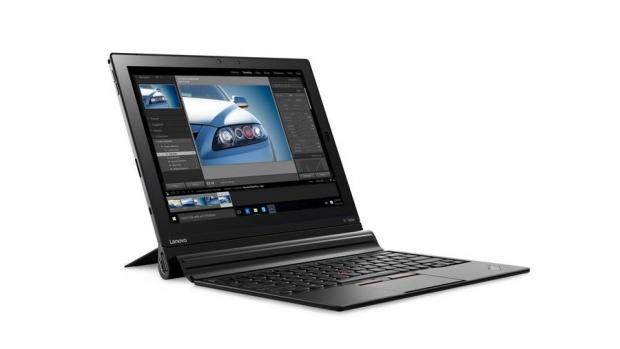 The modular ThinkPad X1 Tablet is Lenovo's answer to the Surface Book, and features a slew of modular attachments that change up the device's main functions. These peripherals include the basic stylus-and-keyboard combo, but add-ons like an optional $149 3D RealSense camera sensor that captures and renders real life objects aim to transform the tablet.
Other attachments include a $149 Productivity Module that gives 5 hours of extra battery life, and a $279 Projector Module that sports a pico projector and an HDMI port for easy on-the-fly presentations. Docked into the $250 hub attachment, the X1 Tablet will be compatible with USB Type C devices and also has options for an expandable 1TB HDD's and LTE-Advanced connectivity. The X1 Tablet retails for $899 and will be available starting in February.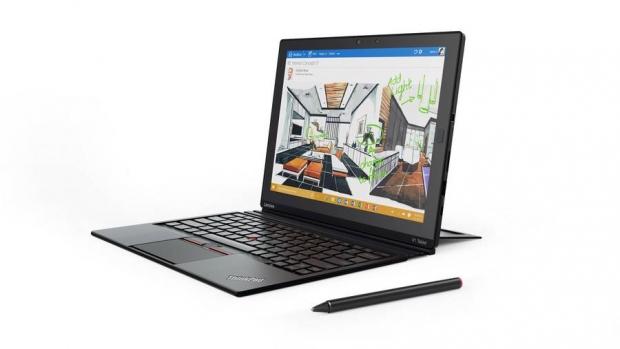 Next up is Lenovo's ThinkPad X1 Yoga laptop, which combines the renowned flexibility of the 2-in-1 line with a robust OLED panel. The 14-inch laptop is touted as the "world's first convertible that features a OLED display", which has an impressive resolution of 2560 x 1440p. As far as specs, The X1 Yoga sports an Intel Core i7 vPro and up to 16GB of RAM. The ThinkPad X1 Yoga starts at $1,449 and is available in January.
Lenovo has affirmed that the entire ThinkPad X1 family will be upgradeable with a slew of options including up to 1TB of space with Samsung M.2 NVMe SSD's, Qualcomm Snapdragon X7 LTE modems for super-fast connectivity, and WiiGig wireless docking and Touch Fingerprint sensors.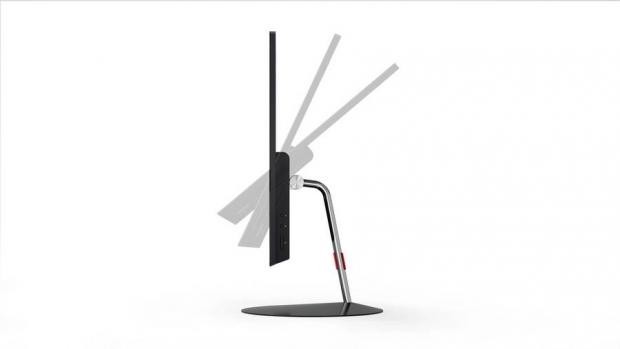 To flesh out their lineup, Lenovo introduces a new desktop PC aimed at sleek performance at the office. Enter the ThinkCenter X1 AIO, the company's touted "desktop of tomorrow". With an ultra-thin 11mm frame, the desktop touts a "notebook thin" form factor ideal for workspaces. Lenovo's new ThinkCenter AIO comes with a 1080p HD IPS display with anti-glare coating.
Under the hood, the desktop has different options including Intel's 6th generation Core i7 vPro CPUs as well as Intel HD 520 integrated graphics, 16GB of RAM, and storage options from a 1TB SSHD and 512GB SSD's. The AIO solution will go on sale for $1029 starting in March.
"Lenovo's customer-centric engineering focus enables us to design and build products where end-user needs come first," Lenovo said in a press release. "The new X1 family demonstrates our relentless pursuit of innovation that elevates the products above the norm." said Johnson Jia, senior vice president, Personal Computing Group, Lenovo. "Optimizing our products with unique features and for greater performance, better cloud access and class-leading security and durability will help customers use technology as their secret weapon."
Related Tags