Windows 95 can boot up on a Nintendo 3DS handheld
Hackers get the yesteryear Windows 95 OS running on a New 3DS XL handheld.

Published Sat, Jan 2 2016 8:32 PM CST
|
Updated Tue, Nov 3 2020 12:02 PM CST
Homebrew creations never cease to amaze me. Just this week we saw hackers jailbreak a PS4 to run Linux and play a Pokemon handheld game, opening the doors for current-gen homebrew creations. Now those enterprising console-crackers have found a way to get Windows 95 to successfully run on Nintendo's New 3DS XL handheld, showing the versatility of today's gaming hardware.
The honors go to a modder named Shutterbug2000, who posted up proof of Windows 95 running on the handheld onto the GBA Temp forums. How exactly would you go about getting a 20-year-old Windows operating system to run on a modern video game system? Shutterbug explains:
"Back a while ago, I tried compiling the dosbox from libretro, and using retroarch to emulate dosbox. Yet, every time, it froze on a rainbow glitchy mess. [Then] I tried it on my n3ds, and it just worked," Shutterbug2000 said in a forum response. "So, I think the o3ds just isn't powerful enough to run dosbox, or there's not enough RAM. At it's core, this is just libretro/retroarch dosbox. But I figured, hey, everyone want's Windows on their 3DS, right?"
Although Windows 95 technically boots up on a New 3DS XL, you can't really do much of anything just yet. That will likely change over the coming weeks as curious homebrewers tweak and tinker with the software, making a humorous and entertaining project out of the classic Windows platform. This isn't the first time that a DS has been hacked: Nintendo's 3DS handheld has no stranger to hacks, and is a popular target due to its versatility.
Using programs like Tubehax, gamers have turned the notoriously locked handheld into portable entertainment libraries, with thousands of classic old-school NES and Genesis games as well as movies and TV shows.
Back in August of last year, notorious hacker smealum embedded a 3DS exploit into the official YouTube app, opening up a clever backdoor entrance to access homebrew software. Nintendo has always been one step behind jailbreaks, but the Japanese gaming giant has consistently thwarted these attempts with new firmware updates.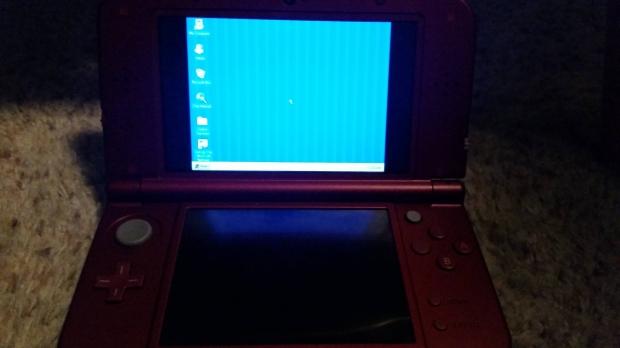 Related Tags