After a while cooking in the oven, Thecus has announced the continued development of ThecusOS 7.0, with the release of the ThecusOS 7.0 Beta.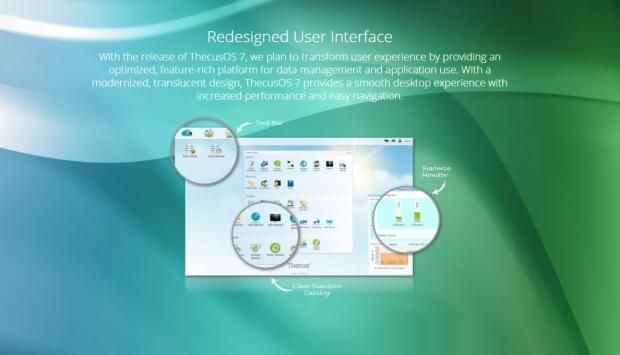 ThecusOS 7.0 was designed on a 64-bit architecture, works with HTML5, and offers countless improvements in not only the design but performance and the user experience. Thecus CEO Florence Shih explains: "Individuals and businesses alike demand storage solutions that provide productivity, efficiency, and agility. With the release of ThecusOS 7.0, we plan to transform user experience by providing an optimized, feature-rich platform for data management and application use". here are the main points on ThecusOS 7.0:
Redesigned User Interface: With a modernized, translucent design, ThecusOS 7.0 provides a smooth desktop experience with increased performance and easy navigation.
Optimized Storage Management: The integration of the File Center feature provides a centralized portal for users to manage their data. Users can create personal user profiles to manage their data and administrators can control access rights. Sharing is made easy through URL or QR code and can be password protected. The addition of SSD cache provides increased performance and efficiency to the system.
Enhanced Multimedia Capabilities: ThecusOS 7.0 allows users to centrally access and manage multimedia and offers media streaming via HDMI, VGA, Chromecast, Apple TV, and USB devices. With the new Photo Station, users are given a convenient, centralized hub to upload, store, browse and share images.
Streamlined Application Use: Incorporating the App Center in ThecusOS 7.0 allows users access to the over 700 official and 3rd party apps available on Thecus NAS directly from the user interface. The Thecus App Center offers a host of utilities for users for backup, security, file management, cloud services, and much more.
If you want to try ThecusOS 7.0 out, visit Thecus' live demo site, here.