Oculus Rift Consumer Beta (ECV7) tested, receives nothing but praise
Some very lucky person has tested out the Consumer Beta (ECV7) of the Oculus Rift, walking away from it with nothing but a smile.

Published Tue, Dec 29 2015 9:30 PM CST
|
Updated Tue, Nov 3 2020 12:02 PM CST
With two Development Kits under their belt, Oculus is close to the Consumer Version of the Oculus Rift - coming in early 2016. Well, 'Chaoss86' has posted on the Oculus reddit, saying that he has tried out the Oculus Rift Consumer Beta (ECV7) headset - and had lots of positive things to say in his analysis of the headset.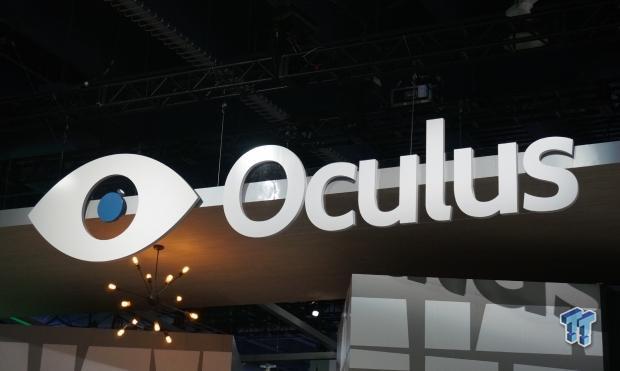 When it comes to the screen inside of the Rift, the DK1 and DK2 had a very visible 'screen door' effect - but with the Consumer Beta (ECV7) headset "there is no pixel pattern of 'screen door' effect", according to Chaoss86. He added that the field of view is "considerably wider than the DK2" headset, adding that while the vertical field of view is "shorter at the top edge", it's "significantly wider horizontally".
Chaoss86 noted that the headset "rests very comfortably" on the head, with the front faceplate capable of moving away, and it's replaceable. This is a big deal, as Chaoss86 notes that "there was no issue with lenses fogging up", and that the Rift is "very light and feels very well built, the "material" seems to be made of some sort of dirt/water retardent and does not get dirty and it does NOT collect dandruff or other dirt".
One of the big notes on the Consumer Beta of the Rift is that it has a "working IPD slider", with Chaoss86 adding "OMG it is an absolute godsend, even if your IPD 'fits' with a standard, some games and experiences do not and this allows a quick 'scale' adjustment so you can get things to feel the right scale for each demo. You honestly don't know what your missing until you try it!"
An issue with the Oculus Rift DK2 unit is that the tracking unit is useless as soon as the camera can't pick the headset up, so you could get clipping issues. Thankfully, it seems this is fixed, with Chaoss86 adding "The field of view of the camera is very wide, (greater than 90 degrees!) and has a good range of movement. It did not loose tracking and the camera itself felt well built and solid (the base was quite heavy so it won't tip over if knocked) It works which ever way your facing so standing experiences are now possible. I could get on the floor and duck under desks etc in VR and never lost tracking, this was amazing!"
Now remember, the Consumer Version of the Oculus Rift will feature headphones, with the notes on the Consumer Beta of the Rift having Chaoss86 "surprised by the built-in cans. They go loud and if you think you will be able to hear your friends laughing at you think again, when 'off' you can hear everything but when on and in a demo they seem to block out sound. I don't know what sort of whichcraft was invoked to make that happen but it works very well. The sound quality is far better than expected and they cover a good range". A note from here, is that Chaoss86 adds that they "put my Corsair overhear gaming headset to shame. You will most likely not need to (or be able to afford) a better set of cans that cover such a large range, Voices really come out naturally which is something many speakers or cans don't do well".
Wrapping up, Chaoss86 said: "there are no more issues, the headset is better in almost every way! We have a great year coming for VR and if this is the quality of the "first gen" headsets then we have nothing to worry about in terms of quality!"
This has me excited, as it looks like Oculus has done countless improvements to the Rift - where I'm hoping to test it out and get some hands- and eyes-on with the new Rift at the 2016 Consumer Electronics Show next week.
Related Tags