World's first Wii U emulator can run Mario Kart 8
The newest version of Wii U emulator Cemu now runs Mario Kart 8 without crashing, showing a leap in performance in just two months.

Published Tue, Dec 15 2015 4:27 PM CST
|
Updated Tue, Nov 3 2020 12:02 PM CST
Current-gen console emulation hasn't hit its stride just yet, but tweakers and coders are making significant progress on the world's first Nintendo Wii U emulator, which can now run Mario Kart 8.
As you can see in the footage above, the emulated Mario Kart 8 doesn't fully mirror its console counterpart. Despite the slower frame-rates and lower graphics, the game is still indeed playable. The current build of Cemu 1.1.2b is much more stable than the glitchy mess that was showcased back in October, showing how far the emulator has come in just two months. The Wii U emulator Cemu is far from finished and we won't see PC gamers whizzing around the Rainbow Road during the holidays, however the day might come sooner than later with proper community support.
It'll be interesting to see how Cemu takes shape in the coming months, and if Wii U games will actually join the roster of emulated systems on the PC. The PlayStation 4 and Xbox One have yet to be emulated, but a hacker claims to have jailbroken the PlayStation 4 to allow system function tweaks and open the doors for custom homebrew firmware.
Below we have a spec sheet of the PC test build that was used to capture the footage. The Cemu emulator traditionally favors AMD video cards over NVIDIA, most likely because the Wii U's APU was tailor-made by AMD. The Wii U emulator doesn't play well with Intel integrated HD graphics, but will run on OpenGL.
PC Specs:
i5 3570k @ 4.4Ghz

GTX 770 2GB

8GB DDR3
Graphics Card Compatibility:
NVIDIA GPU: Runs as expected on most recent driver.

AMD GPU: Runs as expected on most recent driver.

Intel GPU: Visual glitches but runs if OpenGL version is supported.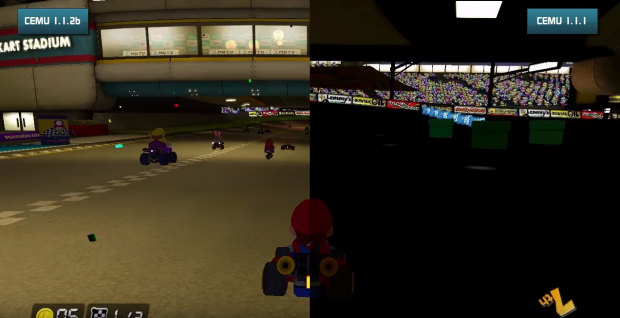 Related Tags