Intel bundles free games with select Core i7 CPU's
Intel offers a trio of free action games with new purchases of Haswell i7 CPUs.

Published Wed, Nov 18 2015 5:09 PM CST
|
Updated Tue, Nov 3 2020 12:03 PM CST
Intel has launched a new promotion that bundles three free games with purchases of select Skylake and Haswell Core i7 CPU's, including the anticipated Just Cause 3.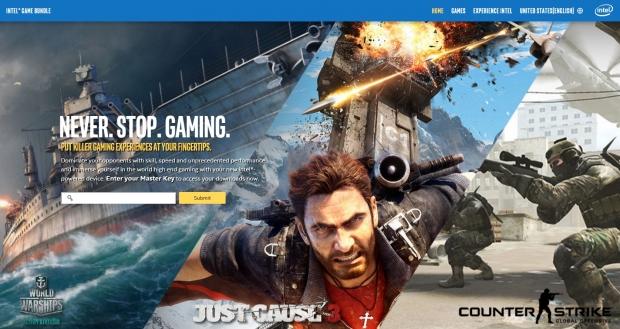 The Intel Enthusiast Game bundle emphasizes chaos and action, with over $100 of free games including Avalanche's upcoming open-world Just Cause 3, a copy of Valve's immortal shooter CS: GO, and premium credit for the free-to-play World of Warships game. After buying a qualifying Haswell or Skylake CPU, users can redeem their voucher at Intel's promo site. We're not sure if the keys are for Steam versions of the games, but likely so.
Qualifying purchases include the full range of Intel Core i7 Haswell CPU's from the Core i7-4770 S to the expensive Core i7-5960X, as well as the new Skylake Core i7-6700 and Core i7-6700K processors. Newegg notes that all keys must be used and redeemed by February 16, 2016.
Interestingly enough, some regions list Intel Core i5 Haswell CPU's as qualifying purchases; NZ-based retailer Playtech will offer the bundle with Intel Core i5-6400 Skylake CPUs.
Related Tags