Pornhub views dip 10% following Fallout 4 release
Fallout 4's massive scope has taken over a huge portion of people's lives, including their digital naughty time.

Published Fri, Nov 13 2015 6:06 PM CST
|
Updated Tue, Nov 3 2020 12:03 PM CST
During the weeks before Fallout 4 came out just about everyone was joking that the game would consume their lives; millions of people would call in sick using a note from Dr. Pete Hines, wives and girlfriends would be neglected, and bomb shelters would be built to house Fallout 4 addicts everywhere. Interestingly enough, Fallout 4 has indeed disrupted people's lives in many ways, including their daily consumption of porn.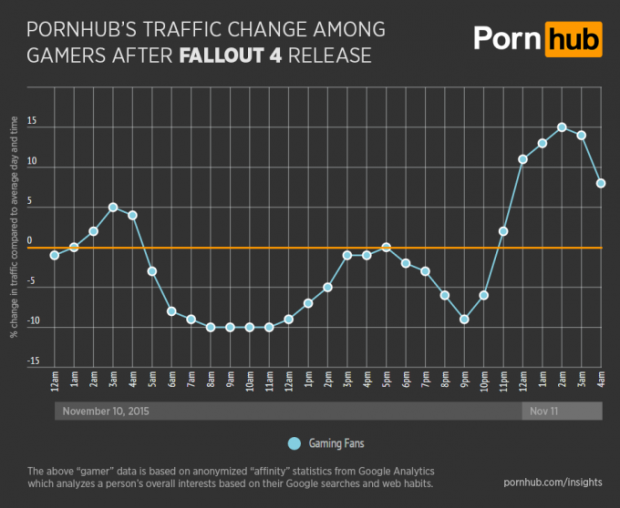 Pornhub revealed that site traffic dipped as much as 10% on the day of Fallout 4's launch, proving people were more interested in putting their hands on a controller than...well...you know. The spike was short-lived, though. Users soon came back for their naughty digital fix in a massive influx, showing that like war, porn never changes.
"Like watching a good Pornhub video, anticipation of the release had been building up, and once the moment arrived, dedicated gamers thought of little else - including visiting Pornhub," the site wrote on its metric update. If you're keen to see the full scope of how a huge game like Fallout 4 can interrupt daily habits--even those shameful and seedy online visits--drop on over to the site. Pornhub keeps a watchful eye over its visitors, and there are some pretty dynamic stats going on. Remember that console gamers can get in on the action, as Pornhub also supports play on both the Xbox One and PlayStation 4.
For more Fallout goodness be sure to check out our official Fallout 4 review, and our latest guide that shows you how to make your own epic 200 vs 200 NPC battles with console commands.
Related Tags