AMD also rumored to be using GDDR5X on its next-gen 14nm GPUs
GDDR5X is going to become a big thing next year with next-gen GPUs, right next to HBM.

Published Tue, Oct 27 2015 2:35 AM CDT
|
Updated Tue, Nov 3 2020 12:03 PM CST
When we heard whispers of NVIDIA using GDDR5X on its upcoming Pascal GPUs, it made sense. HBM2 is going to be sparse, and with AMD reportedly having 'priority access' to HBM2, the use of GDDR5X is going to come in handy, big time. Not only is NVIDIA said to be set to reveal GDDR5X-based video cards, but AMD will, too.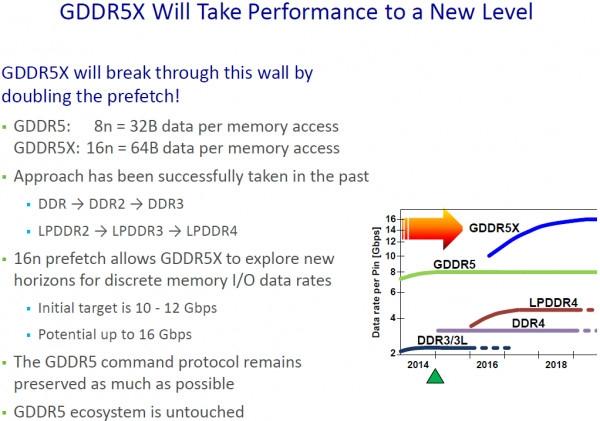 According to a new presentation, GDDR5X is going to provide twice the data rate per memory access. We're going to see it jump from the current 32B data per memory access, to 64B data per memory access. GDDR5 has hit a ceiling at around 7Gbps, but GDDR5X is going to have a much higher I/O rates of around 10-12Gbps.
It looks as though GDDR5X is going to be used well into 2018, while GDDR5 will most likely be kept for lower-end cards. I think we're going to see $50 - $300 cards with GDDR5, $300 - $500 cards (and possibly higher) with GDDR5X, and $500+ left for the higher-end HBM2 technology. The use of GDDR5X by AMD and NVIDIA is going to save much more money on R&D, because instead of moving over their entire next-gen GPU product lines, they can continue to use GDDR5X, which is not all that different to the current GDDR5 technology.
Related Tags