PlayStation VR is the 'ultimate weapon' for devs, says Sony
Sony's PS VR headset might be a 'hugely powerful weapon' for devs, but what about the consumers who buy it?

Published Mon, Sep 21 2015 3:43 PM CDT
|
Updated Tue, Nov 3 2020 12:03 PM CST
Virtual Reality represents a whole new dimension for gaming, and Sony is extremely confident that the PlayStation VR will help usher in the new age. In a recent interview, Sony corporate exec Shuhei Yoshida went so far as to call the PlayStation VR an "ultimate weapon" for developers.

"Using [PlayStation] VR tech, it's so easy, it's almost unfair. It's like an ultimate weapon," Yoshida told at TGS 2015. "I think it's going to be a hugely powerful weapon for game developers to create new and exciting experiences for consumers."
Sony has said that it wants small bite-sized experiences for PS VR that appeal to a wide-spread audience. Developer's are encouraged to market their games as "simple, passive experiences" rather than huge AAA narratives. "Because VR is such a new media, you can create totally amazing experiences with very very limited resources if you have the right idea," Yoshida said, highlighting a popular soccer indie called Headmaster.
While PS VR has won over the media with its immersive performance, there's more to the HMD than meets the eye. Taking a closer look at the PlayStation VR brings the headset into perspective. Since it's new tech, it's almost given it'll be expensive, and Sony has already confirmed it'll cost as much as a console.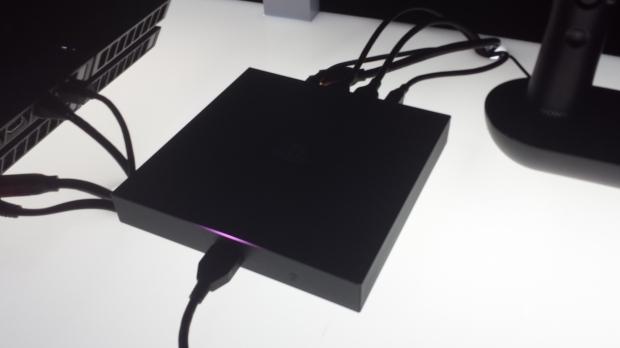 Interestingly enough the PS4 doesn't have the horsepower to maintain VR performance due to its outdated hardware. As a result, the console has to leverage power from a separate source called a Processing Unit, or a "PU", which splits the video signals and adds a hefty power boost. Here's how Sony describes the PU:
"We call it a PU, and it's a box that takes the output from the PlayStation 4 and it splits it, splits it for something for the headset and something for the television... And it does this conversion of the 120Hz output of a PS4 that something a TV can display, and it doesn't get warped. That let's the people in the room that are there to see what you're seeing."
The PlayStation VR will likely be an interesting spectacle in the new wave of gaming, but Sony will have to make sure consumers are well informed on what exactly they're buying. Sony wants you to know all about the PS VR's 120fps cap, the "ultra low-latency" 18ms refresh rates, and the 1920 X RGB X 1080 resolution OLED displays, but details on the headset's cord management and processing box are pointedly missing. We don't even know if the headset ships with a PlayStation Camera (which is required for it to function) or audio headphones.
The Japanese console-maker affirms that the PS VR will ship in 2016 with a library consisting of 10 games, and hopefully these "passive experiences" will be priced acccordingly.
Related Tags