Amazon reveals $140 Fire TV microconsole with 4K streaming
Amazon attempts to thwart Apple with its own hybrid gaming 4K streaming TV box.

Published Thu, Sep 17 2015 2:15 PM CDT
|
Updated Tue, Nov 3 2020 12:03 PM CST
On the heels of the revamped Apple TV, Amazon throws its hat into the Android micro-console ring with the $140 Fire TV Gaming Edition that merges 4K video streaming with set-top box gaming.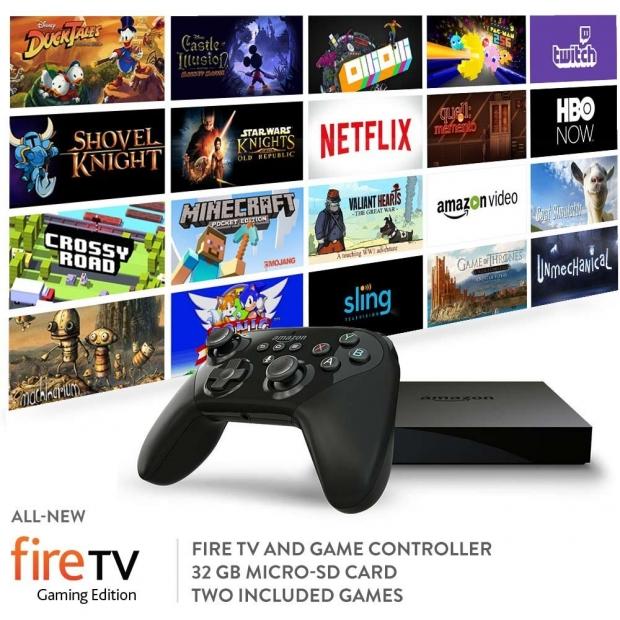 The Fire TV Gaming Edition only supports 4K video streaming and doesn't do 4K gaming--which isn't a surprise since it runs mobile games. Under the hood it packs 2GB of RAM, a MediaTek quad-core processor at 2GHz speeds for "75% more processing power than previous models" and a Power VR GX6250 GPU for grpahics. 8GB of onboard memory storage is included along with an equipped 32GB Micro SD card in the expandable memory slot. The hybrid gamebox can hit 4K video streaming at 30fps and 60fps in 1080p, but we're not sure if the latter resolution is for gaming or not.
Amazon boasts that the Fire TV Gaming Edition "has more games than Apple TV, Roku, or NVIDIA Shield" and every unit comes with a free copy of the amazing 8-bit platformer Shovel Knight and Capcom's DuckTales remake. The Fire TV microconsole can be connected to the internet via ethernet or MIMO Wi-Fi over 802.11a/b/g/n/ac networks. The set-top box also supports Bluetooth 4.1 and has the standard fare of ports consisting of HDMI out, DC power, ethernet, Micro SD and USB port in a compact 4.5in x 4.5in x 0.7in form factor.
Surprisingly enough Amazon's new set-top box has an appealing gaming controller that actually looks quite competent. It's styled like an Xbox 360 controller and looks like it has all the buttons in the right places, keeping the functional and ergonomic form of the tried-and-try style rather than trying to go with something unique. Plus there's an optional $30 controller that comes with an onboard microphone for hands-free voice searching with Alexa--Amazon's AI helper--across the streaming interface. This is another obvious jab at Apple's Siri-integrated set-top box.
The Fire TV Gaming Edition retails for $140 and is available on October 5.
Related Tags