Gearbox Software's landmark post-apocalyptic shooter series Borderlands will be getting its own movie adaptation, with Marvel Studios founder Avi Arad being a major influence.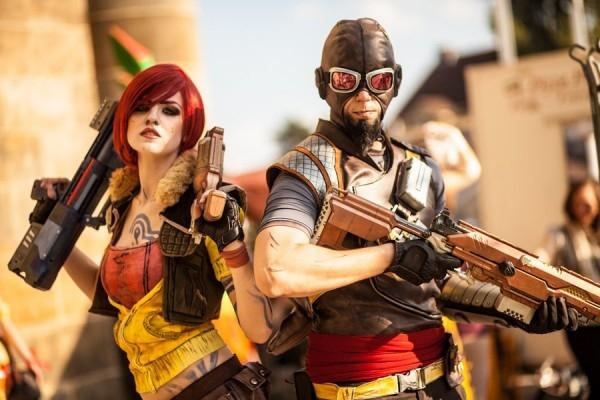 With the rousing success of George Miller's new Mad Max film, it's no surprise that other studios want to get in on the post-apocalyptic cash crop. Variety reports that Lionsgate studios has acquired the rights to a Borderlands film, and plans to bring the franchise's distinct chaotic humor and explosive action to the big screen.
"Lionsgate has emerged as a major creative force in the global marketplace with an incredible portfolio of brands; our partners at Gearbox have pioneered and cultivated an iconic property; and Avi and Ari Arad are two of the most successful producers of action franchises," Take-Two Interactive boss Strauss Zelnick said. "This alliance is ideally positioned to create a bold, provocative, no-holds-barred motion picture phenomenon that will delight Borderlands' current legions of fans and captivate moviegoers around the world."
"The Borderlands games don't pull any punches, and we'll make the movie with the same in-your-face attitude that has made the series a blockbuster mega-franchise," said Lionsgate Co-Chair Patrick Wachsberger.
Marvel Studios founder and ex-CEO Avi Arad and his son Ari will be involved in bringing Borderlands on the big screen. Based on the father and son's track record I'd say that the film is in good hands--both of which have distinct experience handling comic book movie adaptations and are actually working on adapting movies on other video game franchises such as Mass Effect, Metal Gear Solid, inFAMOUS and the Uncharted series.
The hardest character to cast would undoubtedly be the sequel's infamous villain Handsome Jack--not just any actor could pull that role off. It'll be interesting to see our favorite characters like Dr. Zed, Tiny Tina and the insane musclehead Mr. Torgue come to life on the big screen, not to mention the explosive firefights across Pandora.
Nintendo has expressed interest in bringing its own iconic franchises to the big screen: "As we look more broadly at what is Nintendo's role as an entertainment company, we're starting to think more and more about how movies can fit in with that," Nintendo's Shigeru Miyamoto said in a recent interview. "And we'll potentially be looking at things like movies in the future."