Researchers working on exoskeleton controllable by brainwaves
Ah. Science!
Published Aug 23, 2015 3:50 PM CDT
|
Updated Tue, Nov 3 2020 12:04 PM CST
Researchers from Germany and Korea are developing a new exoskeleton able to be controlled by the wearer's brain waves.
Using electroencephalogram (EEG) technology, wearers are able to move forward, turn left and right, or sit and stand while looking at a computer screen. The five flickering LEDs operate at different frequencies, which are identified in an EEG readout - once the signal is accurately identified, the exoskeleton is able to operate normally.
"Exoskeletons create lots of electrical 'noise,'" said Klaus Muller, a researcher and author of a paper published in the Journal of Neural Engineering, in a statement published by Phys.org. "The EEG signal gets buried under all this noise - but our system is able to separate not only the EEG signal, but the frequency of the flickering LED within this signal."
There is hope that the technology could be used by people unable to walk, including people with neurodegenerative diseases or spinal cord injuries.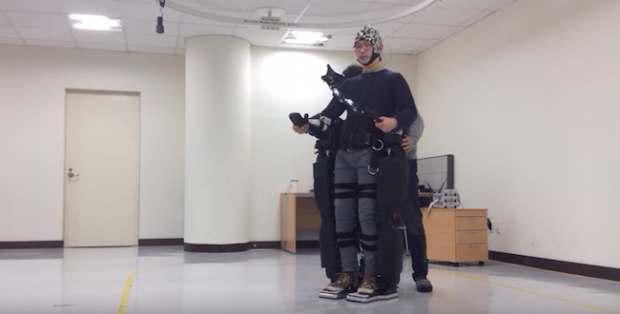 Related Tags