There has been no shortage of awe surrounding Eurocom and its beastly laptop releases this year, with the latest M5 Pro announcement showcasing four different 15.6" screens being made available for all consumers - FHD Matte, FHD GT, 4K Sharp GT and 4K Sharp Matte.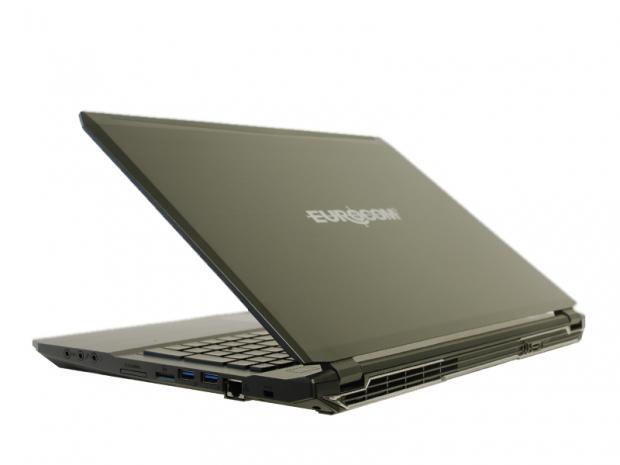 These screens will be coupled with "an Intel HM87 Express Chipset running the Intel Core i7-4710HQ processor with 4 cores, 8 threads running at 2.5 GHz with integrated Intel HD Graphics 4600" as announced in a recent press release. Don't be worried, this isn't the graphics processor utilized! If the CPU isn't good enough for your needs, Eurocom also offers the Intel Core i7-4720HQ and Intel Core i7-4870HQ as an upgrade.
Complete with a full-sized LED backlit keyboard, there's the option to throw in an NVIDIA GeForce GTX 980M, GTX 970M or 965M to support the 4K graphical performance and this can be coupled with up to 32GB of DDR3 1600MHz or 1866MHz 204 pin SO-DIMM RAM.
A more detailed list of the displays on offer is as follows:
AUO B156HAN01.2, FHD 1920x1080; AH-IPS; MATTE (Non-Glare); 700:1; NTSC 72%; Backlight WLED; eDP;

LG LP156WF4-SPU1, FHD 1920x1080; AH-IPS; GLOSSY (Glare Type); 700:1; NTSC 72%; Backlight WLED; eDP;

SHARP IGZO LQ156D1JX01B, 4K QFHD 3840x2160; Retina / IPS; Glossy; 1000:1; NTSC 72%; sRGB 100%; Backlight WLED; eDP;

SHARP IGZO LQ156D1JW04, 4K QFHD 3840x2160; MATTE IPS; 1000:1; NTSC 72%; sRGB 100%; Backlight LED; eDP;