Bethesda unveils Doom 4 at E3, with a bunch of gameplay footage
Doom 4 has been unveiled at the first ever Bethesda press conference at E3 2015.

Published Sun, Jun 14 2015 9:29 PM CDT
|
Updated Tue, Nov 3 2020 12:06 PM CST
E3 2015 - Bethesda was the first to start up E3 2015, and for their first unveiling we have Doom 4. Yes, Doom 4! The next-gen first-person shooter was shown off in all of its gory detail, but does it live up to the hype?
Doom 4 is powered by id Software's id Tech 6 engine, where you play a marine based on a USAC facility on Mars, where you have to kill pretty much every single demon you can. From the gameplay video, there was a ton of gibs, with lots of violence to be had. There are a bunch of weapons to use, including the Super Shotgun, a fan favorite from the original Doom games.
But I did notice a considerable chunk of motion blur, and a very console-like experience. The field of view seemed like it was at 60, and most likely played on the Xbox One. The blood count was high in the first few minutes of the video, but then I noticed that the violence started to be toned down, with less and less blood being spilled from killed demons. I don't know if this was a resource-related issue that Bethesda didn't talk about, but I hope that it's not something that happens in the final game.
There is also a map editor included with Doom 4, where even novice users can edit and make maps easily. Bethesda calls this Doom Snapmap, something that should surely be a huge boon for Doom 4 fans. On the multiplayer side of things, Doom 4 will include many different maps, where you can either be based on Mars, or even the depths of hell itself. There are many different modes to enjoy, including: domination, freeze tag, clan arena, and more.
The team is aiming at 1080p 60FPS on both consoles, which from the footage I don't think they're anywhere near that just yet. It would explain the disappearing blood and gore, that's for sure.
Bethesda teased a spring 2016 release for Doom 4 on PS4, Xbox One and PC.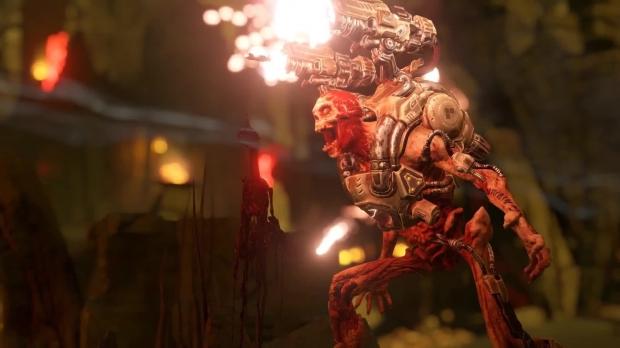 Related Tags