Supermicro shows off its latest GPU machines at NVIDIA GTC 2015
The new line up of GPU solutions that Supermicro has just released is very impressive here at NVIDIA GTC 2015.
Published Wed, Mar 18 2015 5:38 PM CDT
|
Updated Tue, Nov 3 2020 12:09 PM CST
GTC 2015 - Today at NVIDIA GTC 2015, we stopped by Supermicro's booth to look at the latest Tesla GPU Superservers. As always, Supermicro has a wide variety of servers and workstations to meet the needs of its customers.
Sumit Gupta, general manager of Accelerated Computing at NVIDIA explained to us: "Supermicro's new high-density servers provide a range of computing solutions for enterprise and HPC customers," he continued: "Designed to take full advantage of ultra-high performance Tesla GPU accelerators while minimizing power consumption, the servers bring new levels of energy-efficient performance for compute-intensive data analytics, deep learning and scientific applications."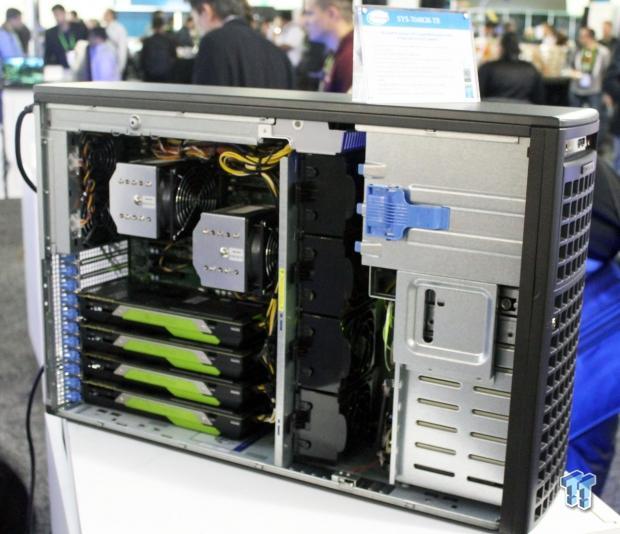 The first offering is the SYS-7048GR-TR, 4U Dual Processor GPU SuperWorkstation with 4-Way GeForce SLI Support.
Next in line is the SYS-1018GR-T, 1U Single Processor SuperServer, which supports up to 2x GPUs.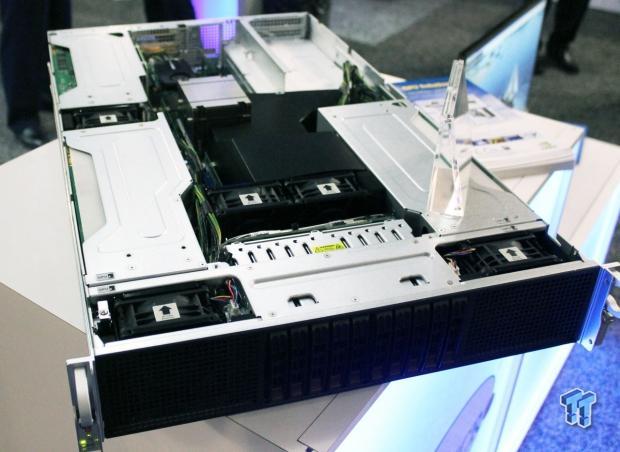 Next up is the SYS-2028GR-TR, 2U Dual Processor SuperServer with capacity for up to 4x GPUs.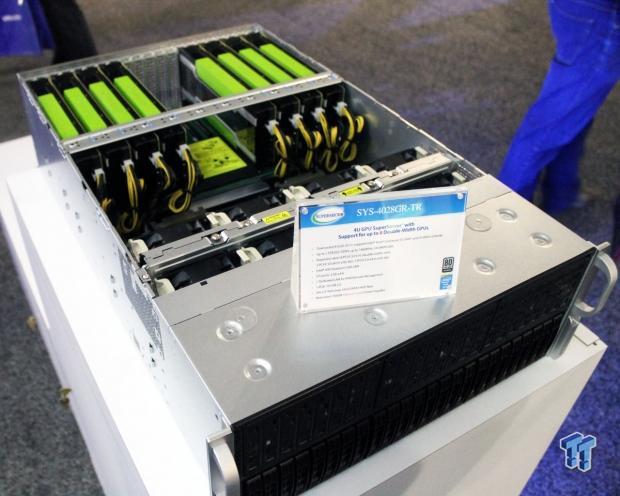 Now we have the massive SYS-4028GR-TR, 4U GPU SuperServer with support for up to 8x Double Width GPUs.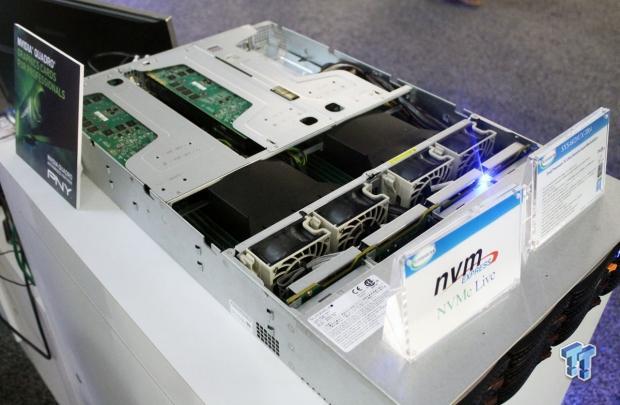 For remote workstation support, we see the SYS-6028UX-TR4, Dual Processor 2U Ultra Remote SuperWorkstation with up to 4x double width GPU cards, NVMe and SAS 3.0.
Additional blades for Supermicro's SuperBlades are the SBI-7127RG-E, Dual Processors with up to 2x double width GPU cards.
Related Tags